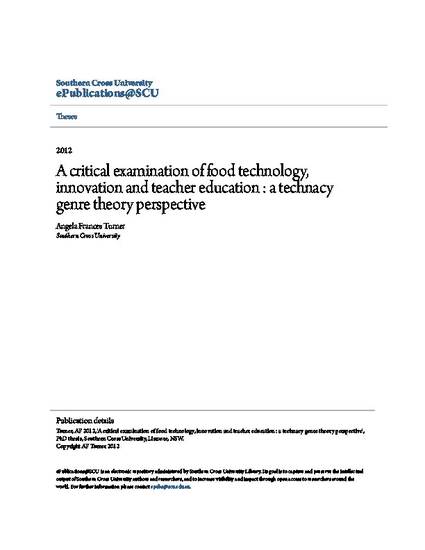 Other
A critical examination of food technology, innovation and teacher education : a technacy genre theory perspective
(2013)
Abstract
There are many and varied forces that shape food technology curriculum, but two that emerge as significant and of specific interest to this research are the perceptions of food technology education and economic trends that influence food technology. The broad goal was to examine the extent to which food technology in secondary schooling is well placed to meet emerging policy and economic demand for food innovation expertise in the industry. With both the school sector and the professional sector each asserting that their respective perceptions of Food Technology was correct, a method for clarifying and classifying the nature of the disjuncture between the two claims has been illusive. This thesis asserts that at the heart of the problem was the lack of a theoretically valid and reliable framework that may help both sectors clarify and articulate exactly what form of technology capability they are pursuing that best defines their practice and direction of scholarship. The study was guided by the recent proposition of Technacy Genre Theory as it was assessed as offering the most contemporary and coherent approach in the literature for examining forms of technological knowledge. Technacy Genre Theory has been steadily maturing as a framework for identifying essential inter-relationships and differences between forms or genres of technological knowledge. Prior to this study, however, a method for undertaking an empirical examination of Technacy Genre Theory had not been devised or tested. A significant outcome of this research was that the critical propositions underpinning Technacy Genre Theory were both observed and able to be validated through empirical means. A method for gathering and analysing Technacy Genre data was able to support the existence of different types of technology genre identified through measuring the relationship between Human, Tool and Material ingredients (also known as the ecological elements) of technological practice. It was found that the dominant genre of technology practiced as 'Food Technology' in many secondary schools was substantially and significantly different to the genre practiced by the vast majority of professional food technologists. While the research restricted its investigation to the context of food technology, the application of Technacy Genre Theory is asserted to be transferrable to any research seeking to identify, clarify and develop various forms of technological practice. Further research is put forward in the refinement and application of Technacy Genre Theory with particular focus on how it may enhance the quality and rigor of technological knowledge across educational and technical professions. The research presented in this thesis allows for sustainable and effective learning of technological practice and innovation, and opens up the possibility of developing innovative new models of technological learning and assessment strategies across school curriculum as well as within an array of professional fields concerned with the choice and use of technologies.
Keywords
food,
innovation,
education,
technacy
Publication Date
January 1, 2013
Citation Information
Turner, AF 2013, 'A critical examination of food technology, innovation and teacher education : a technacy genre theory perspective', PhD thesis, Southern Cross University, Lismore, NSW.
Copyright AF Turner 2013