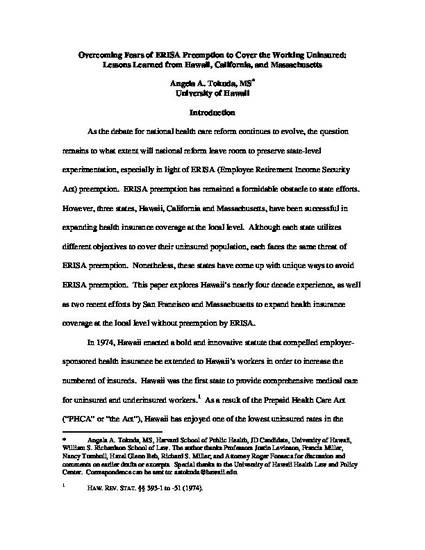 Unpublished Paper
Overcoming Fears of ERISA Preemption to Cover the Working Uninsured: Lessons Learned from Hawaii, California, and Massachusetts
ExpressO (2009)
Abstract
As the debate for national health care reform continues to evolve, the question remains to what extent will national reform leave room to preserve state-level experimentation, especially in light of ERISA (Employee Retirement Income Security Act) preemption. ERISA preemption has remained a formidable obstacle to state efforts. However, three states, Hawaii, California and Massachusetts, have been successful in expanding health insurance coverage at the local level. Although each state utilizes different objectives to cover their uninsured population, each faces the same threat of ERISA preemption. Nonetheless, these states have come up with unique ways to avoid ERISA preemption. This paper explores Hawaii's nearly four decade experience, as well as two recent efforts by San Francisco and Massachusetts to expand health insurance coverage at the local level without preemption by ERISA.
Keywords
ERISA,
Prepaid Health Care,
Universal Healthcare,
Uninsured
Citation Information
Angela Tokuda. "Overcoming Fears of ERISA Preemption to Cover the Working Uninsured: Lessons Learned from Hawaii, California, and Massachusetts"
ExpressO
(2009)
Available at: http://works.bepress.com/angela_tokuda/1/