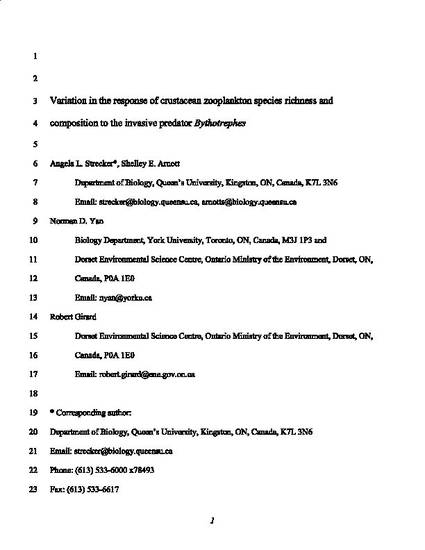 Article
Variation in the Response of Crustacean Zooplankton Species Richness and Composition to the Invasive Predator Bythotrephes Longimanus
Canadian Journal of Fisheries and Aquatic Sciences
Publication Date
1-1-2006
Subjects
Biological invasions,
Zooplankton,
Species distribution,
Paleoclimatology,
Ecosystem health
Abstract
The predacious invertebrate Bythotrephes longimanus has invaded >90 freshwater lakes in North America. There is some evidence that B. longimanus has a negative effect on summer zooplankton species richness; however, no study has examined the effect of B. longimanus throughout the ice-free season in more than one lake. We visited 10 invaded and 4 reference lakes every 2 weeks from May to September, collecting B. longimanus, crustacean zooplankton, and water chemistry samples. Composite samples were pooled across the study season for each lake. Bythotrephes longimanus significantly reduced cladoceran species richness, diversity, and abundance, and the total zooplankton community also exhibited decreased richness, diversity, and abundance. Seasonal sampling was better than synoptic surveys at detecting changes in abundance, but richness estimates were similar. As B. longimanus continues to spread across lake landscapes, we expect it will have profound impacts on local and regional richness and species distribution patterns.
Persistent Identifier
http://archives.pdx.edu/ds/psu/11550
Citation Information
Angela L. Strecker, Shelley E. Arnott, Norman D. Yan and Robert Girard. "Variation in the Response of Crustacean Zooplankton Species Richness and Composition to the Invasive Predator Bythotrephes Longimanus"
Canadian Journal of Fisheries and Aquatic Sciences
(2006)
Available at: http://works.bepress.com/angela_strecker/10/