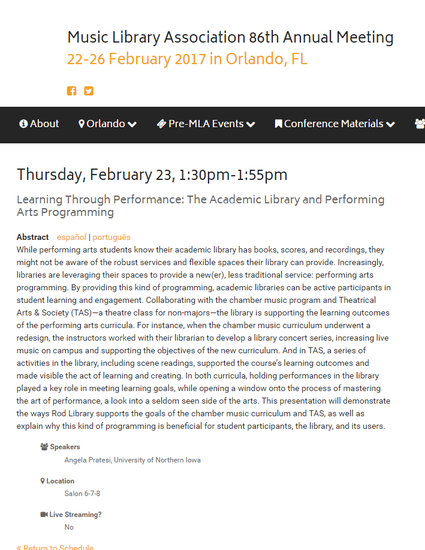 Presentation
Learning Through Performance: The Academic Library and Performing Arts Programming
Pan-American Regional IAML & MLA Annual Meeting (2017)
Abstract
While performing arts students know their academic library has books, scores, and recordings, they might not be aware of the robust services and flexible spaces their library can provide. Increasingly, libraries are leveraging their spaces to provide a new(er), less traditional service: performing arts programming. By providing this kind of programming, academic libraries can be active participants in student learning and engagement. Collaborating with the chamber music program and Theatrical Arts & Society (TAS)—a theatre class for non-majors—the library is supporting the learning outcomes of the performing arts curricula. For instance, when the chamber music curriculum underwent a redesign, the instructors worked with their librarian to develop a library concert series, increasing live music on campus and supporting the objectives of the new curriculum. And in TAS, a series of activities in the library, including scene readings, supported the course's learning outcomes and made visible the act of learning and creating. In both curricula, holding performances in the library played a key role in meeting learning goals, while opening a window onto the process of mastering the art of performance, a look into a seldom seen side of the arts. This presentation will demonstrate the ways Rod Library supports the goals of the chamber music curriculum and TAS, as well as explain why this kind of programming is beneficial for student participants, the library, and its users.
Keywords
performing arts programming,
creative scholarship,
music,
theatre,
academic library,
arts curriculum
Publication Date
February 23, 2017
Citation Information
Angela L. Pratesi. "Learning Through Performance: The Academic Library and Performing Arts Programming"
Pan-American Regional IAML & MLA Annual Meeting
(2017)
Available at: http://works.bepress.com/angela_pratesi/8/