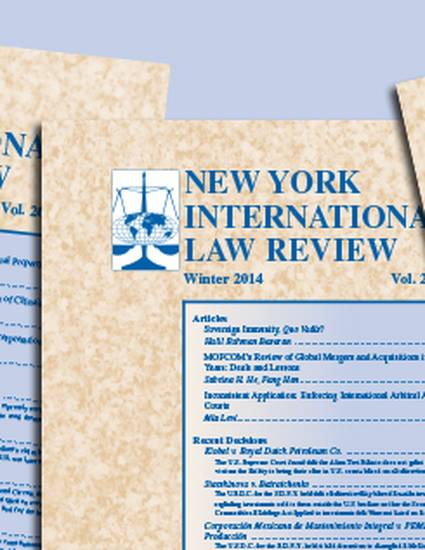 Article
Recognition and Enforcement of United States Money Judgments in Brazil
New York International Law Review (2006)
Abstract
As global trade intensifies around the world, many business-related disputes are emerging. International judicial cooperation becomes crucial for dealing with those disputes. Brazil is one of the top trading partners of the United States. In 2003, U.S. export and import trade with Brazil amounted to 29 billions U.S.. The objective of this Article is to explore whether the money judgments issued in the United States on business matters are enforced in Brazil. In Part I, I will analyze the mechanisms for recognition and enforcement of foreign judgments in Brazil by surveying the historical background. In Part II, I will discuss the process of centralization, and in Part III, I will describe the current requirements for recognition of foreign money judgments in Brazil. In Part IV, I will explain the grounds for non-recognition, and in Part V, I will consider relevant Brazilian cases on recognition of American judgments on business matters. In Part VI, I will give a brief description of how the recognition of foreign money judgments is regulated in the United States, and I will compare both American and Brazilian systems to show their differences and similarities.
Publication Date
Winter 2006
Citation Information
Maria Angela Jardim de Santa Cruz Oliveira. "Recognition and Enforcement of United States Money Judgments in Brazil"
New York International Law Review
Vol. 19 Iss. 1 (2006) ISSN: ISSN 1050-9453
Available at: http://works.bepress.com/angela_oliveira/5/