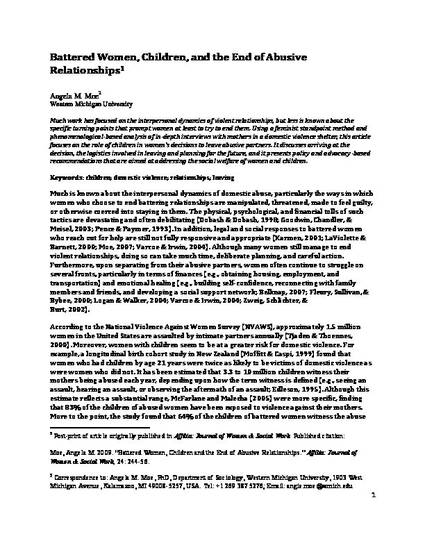 Article
Battered Women in the Restraining Order Process: Observations on a Court Advocacy Program
Violence Against Women (2000)
Abstract
Between the months of January and May, 1998, the author spent approximately 150 hours as a legal advocate in a court advocacy program in southeastern Wisconsin that assists battered women obtain restraining orders. This article reports observations of how legal advocates in the program are affecting battered women's lives through their services as well as accounts of battered women's experiences in the court system and responses by court personnel to them. These observations are discussed in relation to existing research and theory on work with battered women and to the social context in which such work occurs.
Citation Information
Angela M. Moe. "Battered Women in the Restraining Order Process: Observations on a Court Advocacy Program"
Violence Against Women
Vol. 6 Iss. 6 (2000)
Available at: http://works.bepress.com/angela_moe/13/