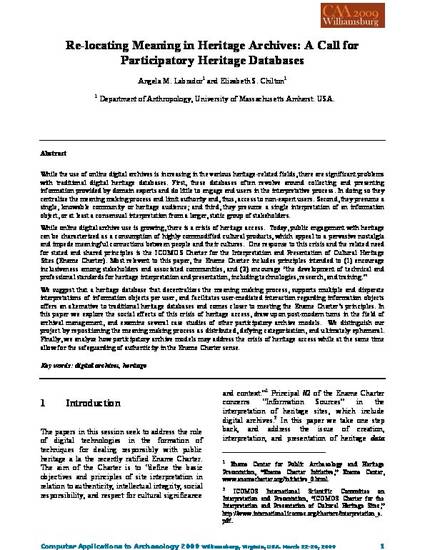 Article
Re-locating Meaning in Heritage Archives: A Call for Participatory Heritage Databases
Computer Applications to Archaeology 2009 Proceedings (2009)
Abstract
While the use of online digital archives is increasing in the various heritage-related fields, there are significant problems with traditional digital heritage databases. First, these databases often revolve around collecting and presenting information provided by domain experts and do little to engage end users in the interpretative process. In doing so they centralize the meaning making process and limit authority and, thus, access to non-expert users. Second, they presume a single, knowable community or heritage audience; and third, they presume a single interpretation of an information object, or at least a consensual interpretation from a larger, static group of stakeholders.
While online digital archive use is growing, there is a crisis of heritage access. Today, public engagement with heritage can be characterized as a consumption of highly commodified cultural products, which appeal to a pervasive nostalgia and impede meaningful connections between people and their cultures. One response to this crisis and the related need for stated and shared principles is the ICOMOS Charter for the Interpretation and Presentation of Cultural Heritage Sites (Ename Charter). Most relevant to this paper, the Ename Charter includes principles intended to (1) encourage inclusiveness among stakeholders and associated communities, and (2) encourage "the development of technical and professional standards for heritage interpretation and presentation, including technologies, research, and training."
We suggest that a heritage database that decentralizes the meaning making process, supports multiple and disparate interpretations of information objects per user, and facilitates user-mediated interaction regarding information objects offers an alternative to traditional heritage databases and comes closer to meeting the Ename Charter's principles. In this paper we explore the social effects of this crisis of heritage access, draw upon post-modern turns in the field of archival management, and examine several case studies of other participatory archive models. We distinguish our project by repositioning the meaning making process as distributed, defying categorization, and ultimately ephemeral. Finally, we analyze how participatory archive models may address the crisis of heritage access while at the same time allow for the safeguarding of authenticity in the Ename Charter sense.
Keywords
participatory,
heritage,
digital archives
Citation Information
Angela M Labrador and Elizabeth S Chilton. "Re-locating Meaning in Heritage Archives: A Call for Participatory Heritage Databases"
Computer Applications to Archaeology 2009 Proceedings
(2009)
Available at: http://works.bepress.com/angela_labrador/5/