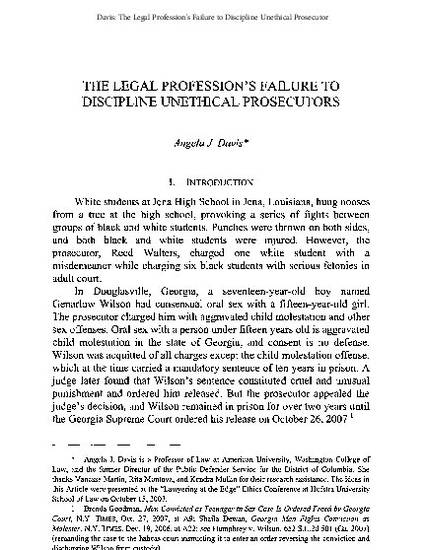 Article
The Legal Profession's Failure to Discipline Unethical Prosecutors
Hofstra Law Review
Publication Date
1-1-2007
Journal
Hofstra Law Review
Abstract
This article explores the legal profession's failure to hold prosecutors accountable for misconduct and other ethical violations. Part I introduces the piece, providing several examples of prosecutorial power and abuse in the criminal justice system. Part II discusses prosecutorial misconduct and the inadequacy of current legal remedies. Part III argues that the Model Rules of Professional Responsibility have not provided adequate guidance to prosecutors, and that the disciplinary process has not been effective in disciplining prosecutors when they have abused their power and discretion. Part IV contends that the disbarment of Mike Nifong – the prosecutor in the Duke lacrosse case – was an aberration and that race and class issues influenced the outcome. Part V suggests that the Rules should be amended to include other forms of prosecutorial abuse, using the Genarlow Wilson and Jena Six cases as examples. Part VI proposes measures for reform, including strengthening the disciplinary process and completing the work of the ABA Ethics 2000 Commission.
Citation Information
Angela J. Davis. "The Legal Profession's Failure to Discipline Unethical Prosecutors"
Hofstra Law Review
Vol. 36 Iss. 2 (2007)
Available at: http://works.bepress.com/angela_davis/38/