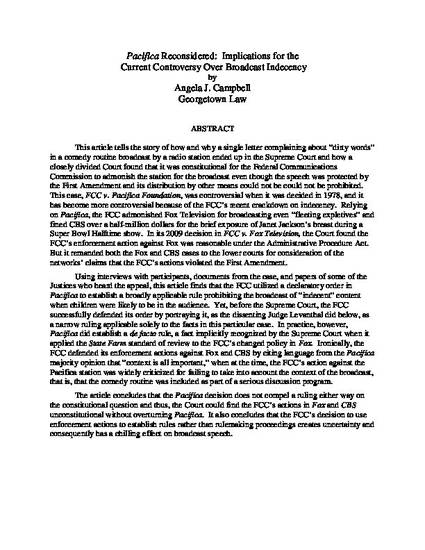 Unpublished Paper
Pacifica Reconsidered: Implications for the Current Controversy Over Broadcast Indecency
ExpressO (2009)
Abstract
This article tells the story of how and why a single letter complaining about "dirty words" in a comedy routine broadcast by a radio station ended up in the Supreme Court and how a closely divided Court found that it was constitutional for the Federal Communications Commission to admonish the station for the broadcast even though the speech was protected by the First Amendment and its distribution by other means could not be could not be prohibited. This case, FCC v. Pacifica Foundation, was controversial when it was decided in 1978, and it has become more controversial because of the FCC's recent crackdown on indecency. Relying on Pacifica, the FCC admonished Fox Television for broadcasting even "fleeting expletives" and fined CBS over a half-million dollars for the brief exposure of Janet Jackson's breast during a Super Bowl Halftime show. In its 2009 decision in FCC v. Fox Television, the Court found the FCC's enforcement action against Fox was reasonable under the Administrative Procedure Act. But it remanded both the Fox and CBS cases to the lower courts for consideration of the networks' claims that the FCC's actions violated the First Amendment.
Using interviews with participants, documents from the case, and papers of some of the Justices who heard the appeal, this article finds that the FCC utilized a declaratory order in Pacifica to establish a broadly applicable rule prohibiting the broadcast of "indecent" content when children were likely to be in the audience. Yet, before the Supreme Court, the FCC successfully defended its order by portraying it, as the dissenting Judge Levanthal did below, as a narrow ruling applicable solely to the facts in this particular case. In practice, however, Pacifica did establish a de facto rule, a fact implicitly recognized by the Supreme Court when it applied the State Farm standard of review to the FCC's changed policy in Fox. Ironically, the FCC defended its enforcement actions against Fox and CBS by citing language from the Pacifica majority opinion that "context is all important," when at the time, the FCC's action against the Pacifica station was widely criticized for failing to take into account the context of the broadcast, that is, that the comedy routine was included as part of a serious discussion program.
The article concludes that the Pacifica decision does not compel a ruling either way on the constitutional question and thus, the Court could find the FCC's actions in Fox and CBS unconstitutional without overturning Pacifica. It also concludes that the FCC's decision to use enforcement actions to establish rules rather than rulemaking proceedings creates uncertainty and consequently has a chilling effect on broadcast speech.
Keywords
indecency,
Supreme Court,
Pacifica,
broadcast,
Federal Communications Commission,
Free Speech
Publication Date
August 5, 2009
Citation Information
Angela J. Campbell. "Pacifica Reconsidered: Implications for the Current Controversy Over Broadcast Indecency"
ExpressO
(2009)
Available at: http://works.bepress.com/angela_campbell/1/