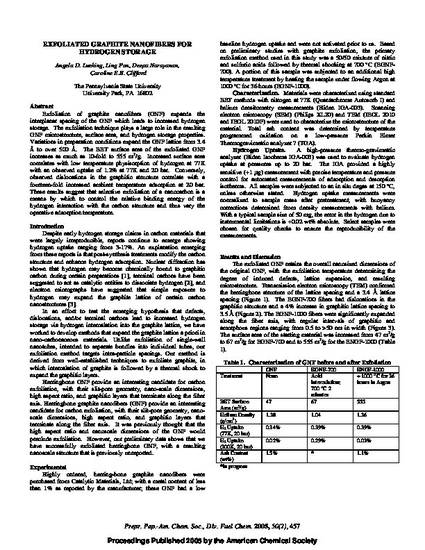 Article
Exfoliated Graphite Nanofibers for Hydrogen Storage
Proceedings of the 230th American Chemical Society, Division of Fuel Chemistry National Meeting (2005, Washington, DC)
Abstract
Exfoliation of graphite nanofibers (GNF) expands the interplanar spacing of the GNF, which leads to increased hydrogen storage. Hydrogen uptake measurements at 20 bar indicated that the overall hydrogen uptake and operative adsorption temperature are sensitive to the structural variations and graphitic spacing. The increased surface area of the EGNF-1000 led to a 1.2% hydrogen uptake at 77 K and 20 bar, a three-fold increase in hydrogen physisorption of the starting material. These results suggested that selective exfoliation of a nanofiber is a means by which to control the relative binding energy of the hydrogen interaction with the carbon structure and thus vary the operative adsorption temperature. This is an abstract of a paper presented at the ACS Fuel Chemistry Meeting (Washington, DC Fall 2005).
Meeting Name
230th American Chemical Society (ACS), Division of Fuel Chemistry National Meeting (2005, Aug. 28-Sep. 1, Washington, DC)
Department(s)
Chemical and Biochemical Engineering
Sponsor(s)
Pennsylvania State University. Institute for the Environment
Pennsylvania State University. Energy Institute
Pennsylvania State. College of Earth and Mineral Sciences
Pennsylvania State University. H2E Center
Document Type
Article - Conference proceedings
Document Version
Final Version
Rights
© 2004 American Chemical Society (ACS), Division of Fuel Chemistry, All rights reserved.
Publication Date
9-1-2005
Citation Information
Angela D. Lueking, Ling Pan, Deepa L. Narayanan and Caroline E. Burgess Clifford. "Exfoliated Graphite Nanofibers for Hydrogen Storage"
Proceedings of the 230th American Chemical Society, Division of Fuel Chemistry National Meeting (2005, Washington, DC)
Vol. 50 Iss. 2 (2005) p. 457 - 459 ISSN: 0569-3772
Available at: http://works.bepress.com/angela-lueking/19/