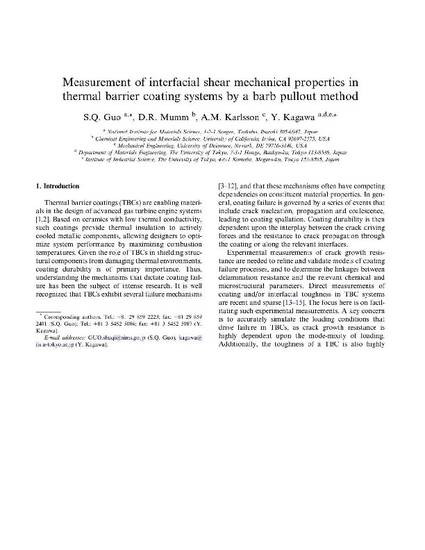 Article
Measurement of Interfacial Shear Mechanical Properties in Thermal Barrier Coating Systems by a Barb Pullout Method
Scripta Materialia
Publication Date
11-1-2005
Abstract
A test technique has been developed to facilitate evaluation of the fracture characteristics of coatings and interfaces in thermal barrier coating (TBC) systems. The methodology has particular application in analyzing delamination crack growth, where crack propagation occurs under predominantly mode II loading. The technique has been demonstrated by quantitatively measuring the effective delamination fracture resistance of an electron-beam physical vapor deposition TBC.
DOI
10.1016/j.scriptamat.2005.07.012
Publisher's Statement
NOTICE: this is the author's version of a work that was accepted for publication in Scripta Materialia. Changes resulting from the publishing process, such as peer review, editing, corrections, structural formatting, and other quality control mechanisms may not be reflected in this document. Changes may have been made to this work since it was submitted for publication. A definitive version was subsequently published in Scripta Materialia, 53, 9, (11-01-2005); 10.1016/j.scriptamat.2005.07.012
Citation Information
Guo, S. Q., Mumm, D. R., Karlsson, A. M., 2005, "Measurement of Interfacial Shear Mechanical Properties in Thermal Barrier Coating Systems by a Barb Pullout Method," Scripta Materialia, 53(9) pp. 1043-1048.