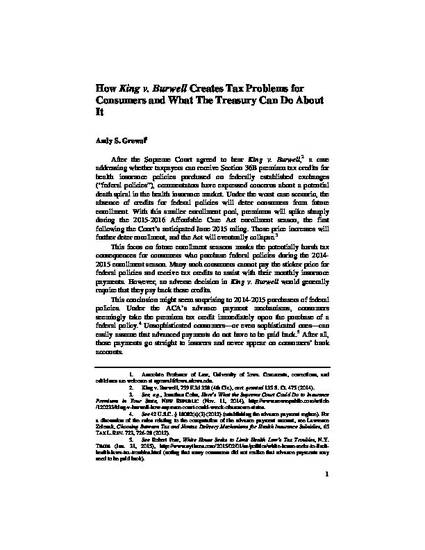 Article
How King v. Burwell Creates Tax Problems for Consumers and What The Treasury Can Do About It
32 Yale Journal on Regulation Online (2015) (2015)
Abstract
Commentators have expressed concern that a government loss in King v. Burwell, which addresses whether taxpayers can enjoy tax credits for policies purchased on federal health care exchanges, will lead to a "death spiral" during future enrollment seasons.
However, this discussion threatens to mask the potential tax problems facing persons who purchase policies this enrollment season. As this short article explains, purchasers may be faced with a surprising tax bill when they complete their 2015 tax returns. Additionally, the government has argued that it can protect customers from surprise tax bills, but it's authority to do so is far from clear.
Keywords
ACA,
Obamacare,
tax credits
Publication Date
November 21, 2015
Citation Information
Andy Grewal. "How King v. Burwell Creates Tax Problems for Consumers and What The Treasury Can Do About It"
32 Yale Journal on Regulation Online (2015)
(2015)
Available at: http://works.bepress.com/andygrewal/6/