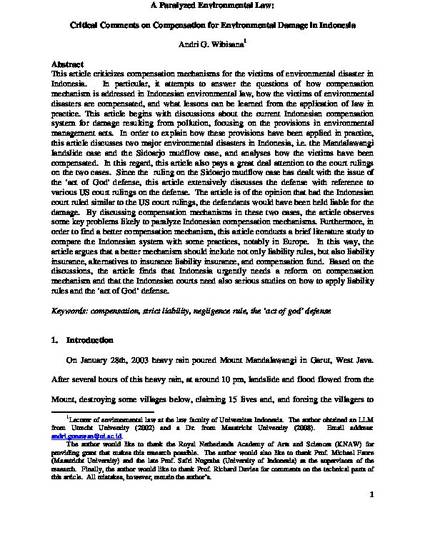 Unpublished Paper
A Paralyzed Environmental Law: Critical Comments on Compensation for Environmental Damage in Indonesia
ExpressO (2013)
Abstract
This article criticizes compensation mechanisms for the victims of environmental disaster in Indonesia. In particular, it attempts to answer the questions of how compensation mechanism is addressed in Indonesian environmental law, how the victims of environmental disasters are compensated, and what lessons can be learned from the application of law in practice. This article begins with discussions about the current Indonesian compensation system for damage resulting from pollution, focusing on the provisions in environmental management acts. In order to explain how these provisions have been applied in practice, this article discusses two major environmental disasters in Indonesia, i.e. the Mandalawangi landslide case and the Sidoarjo mudflow case, and analyses how the victims have been compensated. In this regard, this article also pays a great deal attention to the court rulings on the two cases. Since the ruling on the Sidoarjo mudflow case has dealt with the issue of the 'act of God' defense, this article extensively discusses the defense with reference to various US court rulings on the defense. The article is of the opinion that had the Indonesian court ruled similar to the US court rulings, the defendants would have been held liable for the damage. By discussing compensation mechanisms in these two cases, the article observes some key problems likely to paralyze Indonesian compensation mechanisms. Furthermore, in order to find a better compensation mechanism, this article conducts a brief literature study to compare the Indonesian system with some practices, notably in Europe. In this way, the article argues that a better mechanism should include not only liability rules, but also liability insurance, alternatives to insurance liability insurance, and compensation fund. Based on the discussions, the article finds that Indonesia urgently needs a reform on compensation mechanism and that the Indonesian courts need also serious studies on how to apply liability rules and the 'act of God' defence.
Keywords
compensation,
strict liability,
negligence rule,
the 'act of god' defence
Publication Date
June 17, 2013
Citation Information
Andri Gunawan Wibisana. "A Paralyzed Environmental Law: Critical Comments on Compensation for Environmental Damage in Indonesia"
ExpressO
(2013)
Available at: http://works.bepress.com/andri_wibisana/1/