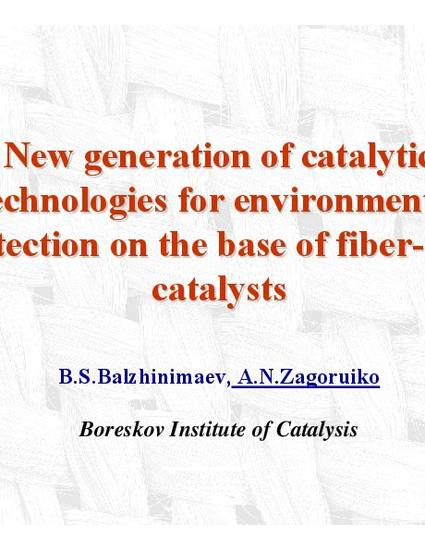 Presentation
New generation of catalytic technologies for environmental protection on the base of fiber-glass catalysts
Russian-Indian Symposium on Catalysis and Environmental Engineering (2009)
Abstract
Novel glass-fiber based catalysts containing extra-low amounts of noble metals (0.01-0.02% mass of Pt or Pd) demonstrate unique performance in many catalytic reactions, resulted from the ability of the glass fibers to stabilize the transient metals in the glass bulk in a highly-dispersed form. Moreover, specific heat/mass transfer properties, original geometry, high flexibility and high mechanical strength of such catalysts give the way to develop really new catalytic processes and novel reactor designs. The paper is dedicated to the successful research and development (from fundamental research issues to pilot and semi-industrial tests) of different catalytic oxidation processes based on application of fiber-glass catalysts for solution of various environmental problems, namely: purification of automotive exhausts, incineration of VOCs (volatile organic compounds) in waste/vent gases, utilization of chlorinated VOCs and dioxins abatement in waste gases, sulphur dioxide oxidation for purification of waste gases and for conditioning of flue gases of coal-fired powerplants.
Keywords
glass-fiber catalysts,
oxidation,
environmental protection
Publication Date
September, 2009
Citation Information
Bair S Balzhinimaev and Andrey N Zagoruiko. "New generation of catalytic technologies for environmental protection on the base of fiber-glass catalysts"
Russian-Indian Symposium on Catalysis and Environmental Engineering
(2009)
Available at: http://works.bepress.com/andrey_zagoruiko/4/