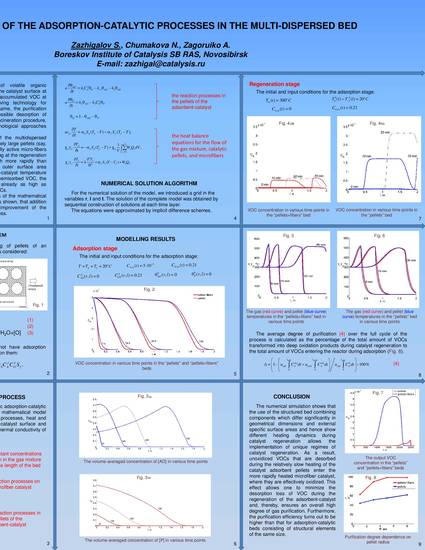 Presentation
Modelling of the adsorption‐catalytic processes in the multi‐dispersed bed
In Proc. International Conference «Nanostructured catalysts and catalytic processes for the innovative energetics and sustainable development», p.77 (2011)
Abstract
The simulation work is dedicated to the multidispersed adsorption-catalytic packing, consisting of comparatively large pellets (say, 5-10 mm) of the catalyst-adsorbent and of catalytically active micro-fibers with typical thickness of ~10 microns. During the heating at the regeneration stage the micro-fiber catalyst must be heated much more rapidly than adsorbent-catalyst, due to the much higher unit outer surface area improving the heat exchange. When the adsorbent-catalyst temperature is becoming high enough for partial desorption of chemisorbed VOC, the temperature of the micro-fibrous catalyst will be already as high as necessary one for complete oxidation of desorbed VOCs. This theoretical concept was confirmed by results of the mathematical simulation of combined multi-dispersed system. It was shown, that addition of the microfibrous catalyst leads to significant improvement of the purirfication efficiency of the adsorption-catalytic process.
Keywords
adsoprtion-catalytic process,
VOC incineration
Publication Date
June 8, 2011
Citation Information
Sergey V Zazhigalov, Natali A Chumakova and Andrey N Zagoruiko. "Modelling of the adsorption‐catalytic processes in the multi‐dispersed bed"
In Proc. International Conference «Nanostructured catalysts and catalytic processes for the innovative energetics and sustainable development», p.77
(2011)
Available at: http://works.bepress.com/andrey_zagoruiko/30/