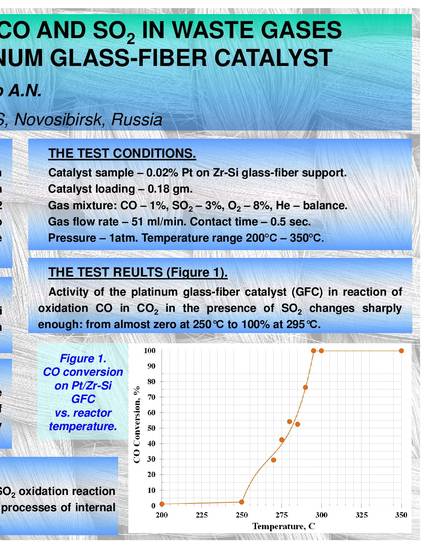 Presentation
Process of combined oxidation of CO and SO2 in waste gases of non‐ferrous smelters at platinum glass‐fiber catalyst
In Proc. International Conference «Nanostructured catalysts and catalytic processes for the innovative energetics and sustainable development», p.72 (2011)
Abstract
The work is dedicated to the development of the efficient catalyst for the oxidation of CO in presence of significant amounts of SO2. It was experimentally shown that the Pt/Zr-Si glas-fiber-based catalyst is capable to provide complete CO conversion in SO2 presence at temperatures less 300 С, at the same time showing high resistance to deactivation. Application of such catalyst in the reverse-process will allow to raise essentially efficiency of purification of waste metallurgical gases from SO2 under presence of significant amounts (up to 1-2% vol.) of CO.
Keywords
SO2 oxidation,
CO oxidation,
smelter waste gases,
fiber-glass catalyst
Publication Date
June 8, 2011
Citation Information
Sergey V Vanag and Andrey N Zagoruiko. "Process of combined oxidation of CO and SO2 in waste gases of non‐ferrous smelters at platinum glass‐fiber catalyst"
In Proc. International Conference «Nanostructured catalysts and catalytic processes for the innovative energetics and sustainable development», p.72
(2011)
Available at: http://works.bepress.com/andrey_zagoruiko/29/