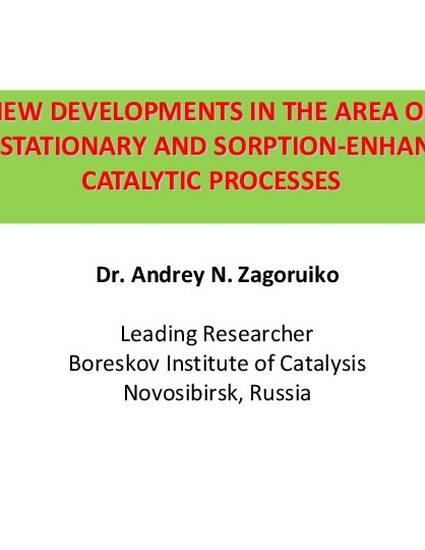 Presentation
New developments in the area of nonstationary and sorption-enhanced catalytic processes
In Proc. International Conference «Nanostructured catalysts and catalytic processes for the innovative energetics and sustainable development», p.30 (2011)
Abstract
The presentation is dedicated to catalytic processes performed under artificially created catalyst nonstationarity. It is shown that the highest technological effect can be achieved for a controlled combination of the thermal nonstationarity with the composition nonstationarity of the catalyst surface. Prospective for application of unsteady catalytic and sorption-catalytic processes are analyzed for different case applications: VOC incineration, hydrogen production by steam conversion of hydrocarbons and organic feedsctock, selective anaerobic oxidation of hydrocarbons. In general, unsteady state and sorption-catalytic ideology discovers new degrees of freedom for process development and may become the basement for new generation of highly-efficient catalytic technologies in the nearest future.
Keywords
Unsteady-state catalysis,
sorption-enhanced catalytic processes,
VOC incineration,
anaerobic oxidation,
hydrogen production
Publication Date
June 8, 2011
Citation Information
Andrey N Zagoruiko. "New developments in the area of nonstationary and sorption-enhanced catalytic processes"
In Proc. International Conference «Nanostructured catalysts and catalytic processes for the innovative energetics and sustainable development», p.30
(2011)
Available at: http://works.bepress.com/andrey_zagoruiko/28/