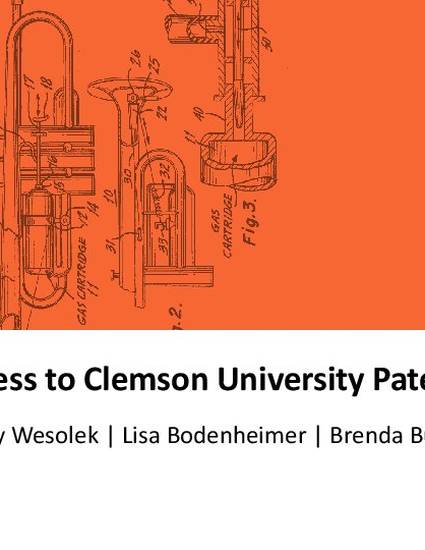 Presentation
Adding Patent Records to Clemson's IR--Highlighting the University's Output
Association of Southeastern Research Libraries (ASERL) (2016)
Abstract
A mounting body of evidence suggests that works that are made openly available online are cited faster and more frequently. Clemson now supports this open sharing of research through its institutional repository, 
TigerPrints
. This repository is highly optimized to attract Google and other search engine crawlers, so it makes your patents and other research highly visible on the open web. That said, nothing tops the intricate search capabilities of the library catalog. Lisa Bodenheimer, Jan Comfort, and Andy Wesolek have leveraged the benefits of both of these systems by incorporating patent records into each. Specifically, presenters outline this project from generating metadata for patents and crosswalking it into a form that can be batch-uploaded to a bepress Digital Commons repository. They then explore the process of harvesting the records from the repository and using MarcEdit to crosswalk it into the library catalog. Finally, Clemson's Head of Special Collections, Brenda Burke will discuss the impact of the project on the education and collection development efforts of the Special Collections Library. 
Keywords
Clemson University,
Patents,
Integrated Library System,
Online Catalog,
Archives,
Institional Repository
Publication Date
January 26, 2016
DOI
http://www.aserl.org/archive/
Citation Information
Andrew Wesolek, Jan Comfort, Lisa Bodenheimer and Brenda Burk. "Adding Patent Records to Clemson's IR--Highlighting the University's Output"
Association of Southeastern Research Libraries (ASERL)
(2016)
Available at: http://works.bepress.com/andrew_wesolek/40/