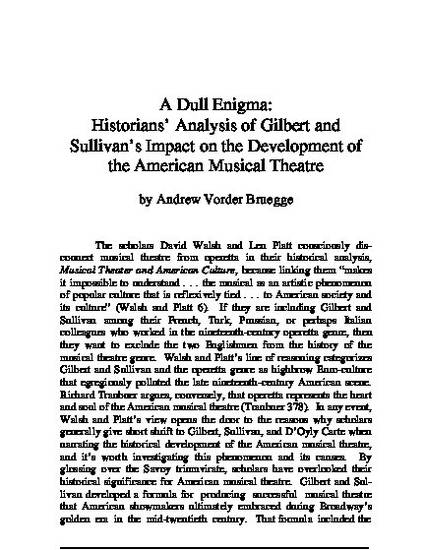 Article
A Dull Enigma: Historians' Analysis of Gilbert and Sullivan's Impact on the Development of the American Musical
Paper, Presentations and Patter: A Savoyards' Symposium (2012)
Abstract
Historians of musical theatre have been ambivalent when assessing the historical significance of Gilbert and Sullivan upon the development of the American musical. Historical narratives typically jump from The Black Crook to Friml, with only passing reference to G&S (and Offenbach, and Strauss). Gilbert and Sullivan (encouraged by D'Oyly Carte), however, anticipated not only most of the formal elements, but also many of the creative/production processes of the American musical genre. The shows that we associate with the "Golden Era" of the American musical theatre contain many components that G&S devised three score years earlier. Historians should acknowledge the importance of Gilbert and Sullivan's role in shaping the American musical theatre.
Citation Information
Vorder Bruegge, Andrew. "A Dull Enigma: Historians' Analysis of Gilbert and Sullivan's Impact on the Development of the American Musical."
Paper, Presentations and Patter: A Savoyards' Symposium
. Ed. Ralph MacPhail. York, PA: International Gilbert and Sullivan Association, 2012. 1-16. Available at: http://works.bepress.com/andrew_vorder_bruegge/18