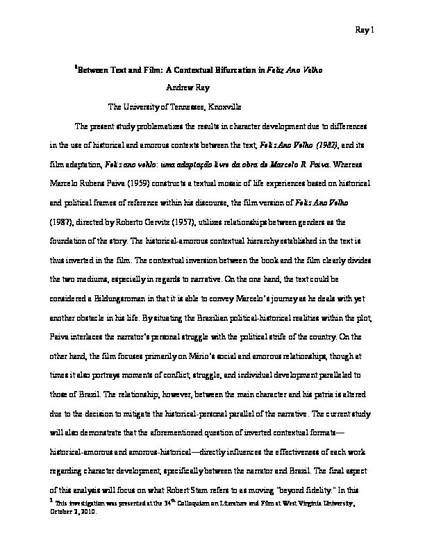 Presentation
Between Text and Film: A Contextual Bifurcation in Feliz Ano Velho
West Virginia University's 34th Colloquium on Literature and Film (2010)
Abstract
The present study problematizes the results in character development due to differences in the use of historical and amorous contexts between the text, Feliz Ano Velho (1982), and its film adaptation, Feliz ano vehlo: uma adaptação livre da obra de Marcelo R. Paiva.
Keywords
Modern Brazilian Film and Literature
Citation Information
Andrew M. Ray. "Between Text and Film: A Contextual Bifurcation in Feliz Ano Velho"
West Virginia University's 34th Colloquium on Literature and Film
(2010)
Available at: http://works.bepress.com/andrew_ray/3/