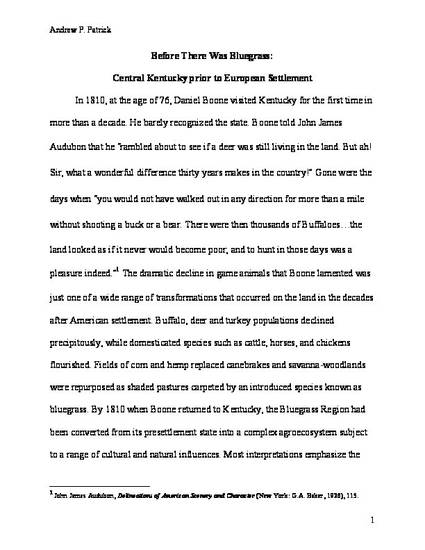 Presentation
Before There Was Bluegrass: Central Kentucky Prior to European Settlement
Ohio Valley History Conference (2012)
Abstract
By drawing on scientific, archaeological and historical sources, this study aims to trace the dramatic changes in the landscape that occurred before American settlers arrived to create an "agroecosystem" geared toward sustaining and enriching a growing populace. What emerges is a new periodization of central Kentucky's ecological history. The landscape was not a static background factor passively awaiting European arrival; instead it underwent multiple transformations due to the changing interactions of human and natural influences.
Publication Date
Fall 2012
Citation Information
Andrew P Patrick. "Before There Was Bluegrass: Central Kentucky Prior to European Settlement"
Ohio Valley History Conference
(2012)
Available at: http://works.bepress.com/andrew_patrick/4/