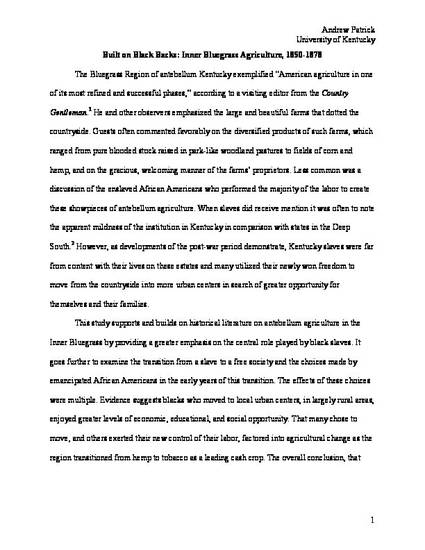 Presentation
Built on Black Backs: Inner Bluegrass Agriculture, 1850-1878
13th Annual Graduate Student Conference in African American History (2011)
Abstract
This study supports and builds on historical literature on antebellum agriculture in the Inner Bluegrass by providing a greater emphasis on the central role played by black slaves. It goes further to examine the transition from a slave to a free society and the choices made by emancipated African Americans in the early years of this transition. The overall conclusion, that African Americans were central to Inner Bluegrass agriculture, through their labor and their choices, applies equally to the antebellum and postbellum eras.
Keywords
African-American Labor,
Inner Bluegrass Agriculture
Publication Date
October, 2011
Citation Information
Andrew P Patrick. "Built on Black Backs: Inner Bluegrass Agriculture, 1850-1878"
13th Annual Graduate Student Conference in African American History
(2011)
Available at: http://works.bepress.com/andrew_patrick/3/