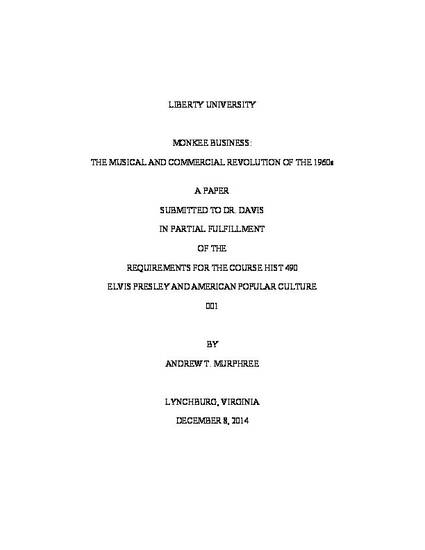 Article
Monkee Business: The Musical and Commercial Revolution of the 1960s
American Popular Culture Seminar (2014)
Abstract
Very few bands in the history of American popular music possess a more captivating story of rapid ascension to commercial acclaim than that of The Monkees, an American rock band that was brought together in 1966 by executives at Screen Gems, a division of Columbia Pictures. Originally conceived for the purpose of a television show that followed the everyday life of four young musicians aspiring to become the next Beatles, their artificial construction as a band represented their primary purpose as a commercial venture as opposed to a traditional artistic endeavor. While The Monkees rose to success as a merchandising powerhouse in the late 1960s, they also managed to carve out a considerable niche in popular culture, creating a unique musical sound and fan following that would, at times, rival the successes of The Beatles themselves.
Keywords
Monkee,
Business,
Musical,
Commericial,
Revolution,
1960,
60s,
Monkees,
Davy,
Jones,
Micky,
Dolenz,
Bob,
Rafelson,
Beatles,
Bert,
Schneider,
Screen,
Gems,
Records,
Columbia,
band,
rock,
pop,
Peter,
Tork,
Michael,
Nesmith,
music,
television
Publication Date
Winter 2014
Citation Information
Andrew T Murphree. "Monkee Business: The Musical and Commercial Revolution of the 1960s"
American Popular Culture Seminar
(2014)
Available at: http://works.bepress.com/andrew_murphree/3/