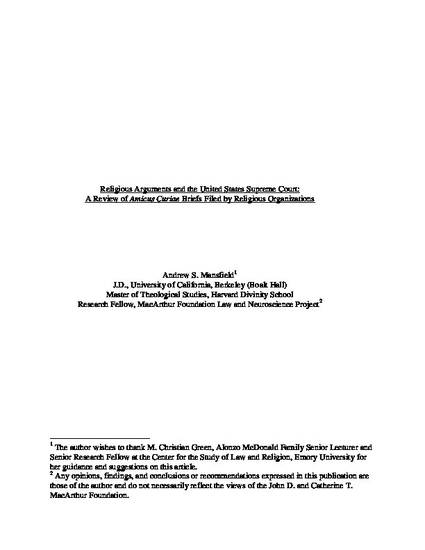 Unpublished Paper
Religious Arguments and the United States Supreme Court: A Review of Amicus Curiae Briefs Filed by Religious Organizations
ExpressO (2008)
Abstract
This paper analyzes forty-five amicus curiae briefs filed by religious organizations with the Supreme Court since Brown v. Board of Education, 348 U.S. 886, decided in 1954, through the decision in Ayotte v. Planned Parenthood, 546 U.S. 320, rendered in 2006. The forty-five amicus curiae briefs were filed in nineteen cases and concern issues that are often identified as "moral." Analysis of the amicus curiae briefs filed with the Supreme Court by religious organizations provides at least three crucial insights. First, the legal arguments presented by religious organizations, as reflected in amicus curiae briefs filed with the Supreme Court, provide insight into how such organizations view the relationship between religion and the law. Second, the coalitions formed by various religions organizations gives us perspective on the relationships between various United States denominations and religious groups. Finally, by reviewing the rulings of the Court in cases that were briefed by religious organizations, we can gain insight into the Court's understanding of whether and how religious organizations should influence or affect legal decisions. A review of the Supreme Court's decisions concerning the free speech rights of religious organizations as well as a review of the decisions concerning the "secular purpose" of legislation may help explain why the organizations file numerous briefs and the Supreme Court appears to largely ignore them.
Keywords
religion,
religious organization,
religious denominations,
Supreme Court,
amicus curiae briefs,
amici
Citation Information
Andrew S Mansfield. "Religious Arguments and the United States Supreme Court: A Review of Amicus Curiae Briefs Filed by Religious Organizations"
ExpressO
(2008)
Available at: http://works.bepress.com/andrew_mansfield/5/