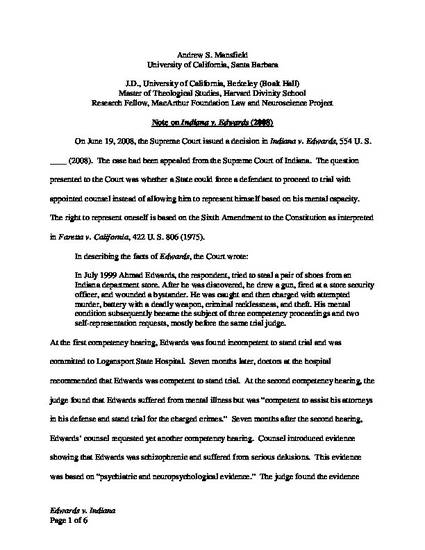 Unpublished Paper
Analysis of Indiana v. Edwards (2008)
ExpressO (2008)
Abstract
The reasoning of the Supreme Court in Indiana v. Edwards, holding that a State could force a defendant to proceed to trial with appointed counsel instead of allowing him to represent himself, is reviewed. The holding centers on the mental capacity of the individual waiving counsel. A review of the amicus curiae brief filed by the APA in Indiana v. Edwards indicates that the brief had a significant impact on the decision. The arguments concerning Godinez and the non-unitary nature of mental competency in the decision largely track the arguments made by the APA in its brief. The structure of the decision is largely similar to the structure of the arguments contained in the APA brief. The decision in Indiana v. Edwards appears to support the proposition that amici may significantly affect Supreme Court decisions with well-reasoned legal arguments based on social science and clinical scientific findings.
Keywords
Competency,
right to counsel,
waiver of counsel,
American Psychological Association,
Psychology,
Psychiatry
Citation Information
Andrew S Mansfield. "Analysis of Indiana v. Edwards (2008)"
ExpressO
(2008)
Available at: http://works.bepress.com/andrew_mansfield/3/