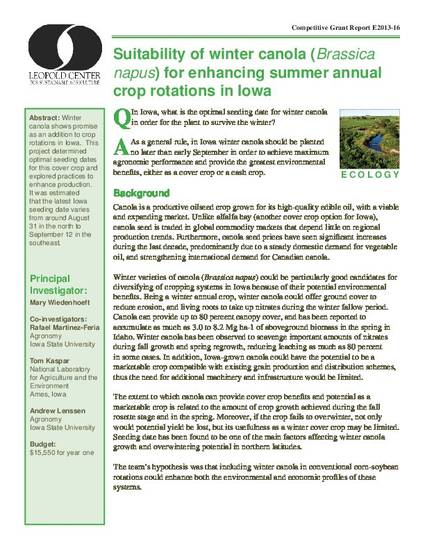 Article
Suitability of winter canola (Brassica napus) for enhancing summer annual crop rotations in Iowa
Leopold Center Completed Grant Reports
Abstract
Winter canola shows promise as an addition to crop rotations in Iowa. This project determined optimal seeding dates for this cover crop and explored practices to enhance production. It was estimated that the latest Iowa seeding date varies from around August 31 in the north to September 12 in the southeast.
Key Question
In Iowa, what is the optimal seeding date for winter canola in order for the plant to survive the winter?
Findings
As a general rule, in Iowa winter canola should be planted no later than early September in order to achieve maximum agronomic performance and provide the greatest environmental benefits, either as a cover crop or a cash crop.
Principal Investigator(s)
Mary Wiedenhoeft
Co-Investigator(s)
Rafael Martinez-Feria, Tom Kaspar, Andrew Lenssen
Year of Grant Completion
2014
Citation Information
Mary H. Wiedenhoeft, Rafael A. Martinez-Feria, Thomas C. Kaspar and Andrew W. Lenssen. "Suitability of winter canola (Brassica napus) for enhancing summer annual crop rotations in Iowa" (2014)
Available at: http://works.bepress.com/andrew_lenssen/94/