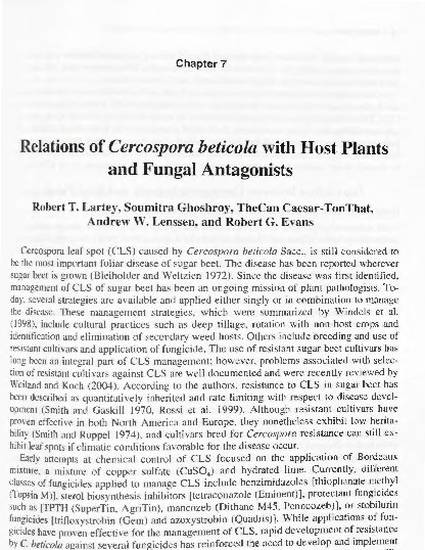 Article
Relations of Cercospora beticola with Host Plants and Fungal Antagonists
Cercospora Leaf Spot of Sugar Beet and Related Species
Document Type
Book Chapter
Publication Version
Published Version
Publication Date
1-1-2010
Abstract
Cerco pora leaf pot (CLS) cau ed by Cercospora beticola Sacc., is sti ll considered to be the mo t important foliar di ease of ugar beel. The di ea e ha been reported wherever ugar beet i grO\\ n (Bieiholder and Weltzien 1972). Since the di ease wa fir t identified. management of CLS of ugar beet has been an ongoing mi ion of plant pathologists. Toda}. everal trategie are available and applied either s ingly or in combination to manage the di ea e. The e management trategie , which were ummarized by Windels et al. (1998), include cultural practice uch a deep tillage, rotation with non-host crops and identification and elimination of econdary weed host . Other include breeding and use of re i.tant cultivars and application of fungicide. The u e of re i tant sugar beet cultivars has long been an integral pan of CLS management; however, problems associated with selection of re i tant cuhivars again t CLS are wel l documented and were recently reviewed by Weiland and Koch (2004). According to the author , resistance to CLS in sugar beet has been de cribed as quantitatively in herited and rate limiting with respect to disease development (Smith and Gaskill 1970, Ro i et a l. 1999). Although resistant cultivars have proven effective in both North America and Europe, they nonetheless exhibit low heritability (Smith and Ruppel 1974), and cultivar bred for Cercospora resistance can still exhibit leaf pots if climatic condition favorable for the disease occur.
Rights
Works produced by employees of the U.S. Government as part of their official duties are not copyrighted within the U.S. The content of this document is not copyrighted.
File Format
application/pdf
Citation Information
Robert T. Lartey, Soumitra Ghoshroy, TheCan Caesar-TonThat, Andrew W. Lenssen, et al.. "Relations of Cercospora beticola with Host Plants and Fungal Antagonists"
Cercospora Leaf Spot of Sugar Beet and Related Species
(2010) p. 77 - 90
Available at: http://works.bepress.com/andrew_lenssen/82/