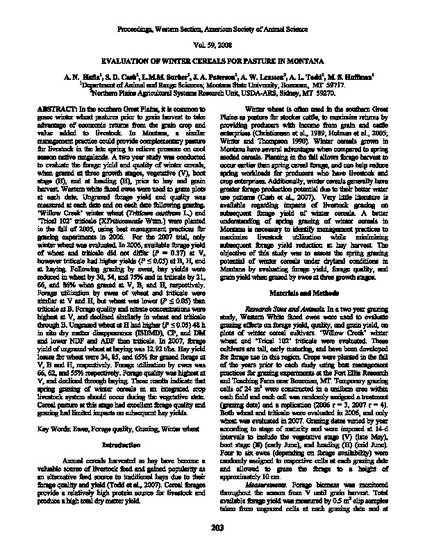 Presentation
Evaluation of Winter Cereals for Pasture in Montana
Western Section, American Society of Animal Science (2008)
Abstract
In the southern Great Plains, it is common to graze winter wheat pastures prior to grain harvest to take advantage of economic returns from the grain crop and value added to livestock. In Montana, a similar management practice could provide complementary pasture for livestock in the late spring to relieve pressure on cool season native rangelands. A two year study was conducted to evaluate the forage yield and quality of winter cereals, when grazed at three growth stages, vegetative (V), boot stage (B), and at heading (H), prior to hay and grain harvest. Western white faced ewes were used to graze plots at each date. Ungrazed forage yield and quality was measured at each date and on each date following grazing. 'Willow Creek' winter wheat (Triticum aestivum L.) and 'Trical 102' triticale (X. Triticosecale Wttm.) were planted in the fall of 2005, using best management practices for grazing experiments in 2006. For the 2007 trial, only winter wheat was evaluated. In 2006, available forage yield of wheat and triticale did not differ (P = 0.37) at V, however triticale had higher yields (P :::; 0.05) at B, H, and at haying. Following grazing by ewes, hay yields were reduced in wheat by 30, 54, and 75% and in triticale by 21, 66, and 86% when grazed at V, B, and H, respectively. Forage utilization by ewes of wheat and triticale were similar at V and H, but wheat was lower (P:::; 0.05) than triticale at B. Forage quality and nitrate concentrations were highest at V, and declined similarly in wheat and triticale through B. Ungrazed wheat at H had higher (P :::; 0.05) 48 h in situ dry matter disappearance (ISDMD), CP, and DM and lower NDF and ADF than triticale. In 2007, forage yield of ungrazed wheat at haying was 12.92 tlha. Hay yield losses for wheat were 34, 85, and 65% for grazed forage at V, B and H, respectively. Forage utilization by ewes was 66, 62, and 55% respectively. Forage quality was highest at V, and declined through haying. These results indicate that spring grazing of winter cereals in an integrated crop livestock system should occur during the vegetative state. Cereal pasture at this stage had excellent forage quality and grazing had limited impacts on subsequent hay yields.
Keywords
ewes,
forage quality,
grazing,
winter wheat
Citation Information
Andrew W. Lenssen, A. N. Hafla, S. D. Cash, L. M. M. Surber, et al.. "Evaluation of Winter Cereals for Pasture in Montana"
Western Section, American Society of Animal Science
(2008)
Available at: http://works.bepress.com/andrew_lenssen/77/