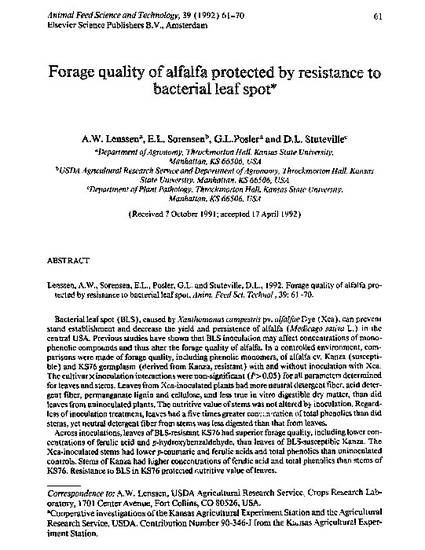 Article
Forage Quality of Alfalfa Protected by Resistance to Bacterial Leaf Spot
Animal Feed Science and Technology (1992)
Abstract
Bacterial leaf spot (BLS), caused by Xanthomonas campestris pv. arfalfae Dye (Xca ), can prevent stand establishment and decrease the yield and persistence of alfalfa (Medicago sativa L.) in the central USA. Previous studies have shown that BLS inoculation may affect concentrations of monophenolic compounds and thus alter the forage quality of alfalfa. In a controlled environment, comparisons were made of forage quality, including phenolic monomers, of alfalfa cv. Kanza (susceptible) and KS76 germplasm (derived from Kanza, resistant) with and without inoculation with Xca. The cultivarx inoculation interactions were non-significant (P> 0.05 ) for all parameters determined for leaves and stems. Leaves from Xca-inoculated plants had more neutral detergent fiber, acid detergent fiber, permanganate lignin and cellulose, and less true in vitro digestible dry matter, than did leaves from uninoculated plants. The nutritive value of stems was not altered by inoculation. Regardless of inoculation treatment, leaves had a five times greater con':: 2 ration of total phenolics than did stems, yet neutral detergent fiber from stems was less digested than that from leaves. Across inoculations, leaves of BLS-resistant KS76 had superior forage quality, including lower concentrations of ferulic acid and phydroxybenzaldehyde, than leaves of BLS-susceptible Kanza. The Xca-inoculated stems had lower pcoumaric and ferulic acids and total phenolics than uninoculated controls. Stems of Kanza had higher concentrations of ferulic acid and total phenolics than stems of KS76. Resistance to BLS in KS76 protected nutritive value of leaves.
Keywords
BLS,
alfalfa,
inoculation,
monophenolic,
monomers
Citation Information
Andrew W. Lenssen, E. L. Sorensen, G. L. Posler and D. L. Stuteville. "Forage Quality of Alfalfa Protected by Resistance to Bacterial Leaf Spot"
Animal Feed Science and Technology
Vol. 39 (1992)
Available at: http://works.bepress.com/andrew_lenssen/59/