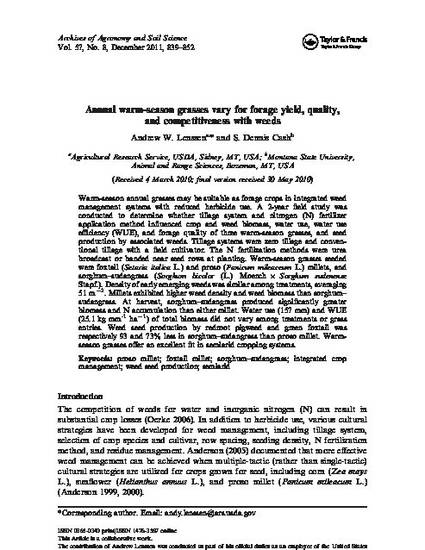 Article
Annual warm-season grasses vary for forage yield, quality, and competitiveness with weeds
Archives of Agronomy and Soil Science (2011)
Abstract
Warm-season annual grasses may be suitable as forage crops in integrated weed management systems with reduced herbicide use. A 2-year field study was conducted to determine whether tillage system and nitrogen (N) fertilizer application method influenced crop and weed biomass, water use, water use efficiency (WUE), and forage quality of three warm-season grasses, and seed production by associated weeds. Tillage systems were zero tillage and conventional tillage with a field cultivator. The N fertilization methods were urea broadcast or banded near seed rows at planting. Warm-season grasses seeded were foxtail (Setaria italica L.) and proso (Panicum mileaceum L.) millets, and sorghum–sudangrass (Sorghum bicolor (L.) Moench 6 Sorghum sudenense Stapf.). Density of early emerging weeds was similar among treatments, averaging 51 m72. Millets exhibited higher weed density and weed biomass than sorghum–sudangrass. At harvest, sorghum–sudangrass produced significantly greater biomass and N accumulation than either millet. Water use (157 mm) and WUE (25.1 kg mm-1 ha71 ) of total biomass did not vary among treatments or grass entries. Weed seed production by redroot pigweed and green foxtail was respectively 93 and 73% less in sorghum–sudangrass than proso millet. Warmseason grasses offer an excellent fit in semiarid cropping systems.
Keywords
proso millet,
foxtail millet,
sorghum–sudangrass,
integrated crop management,
weed seed production,
semiarid
Publication Date
December, 2011
Citation Information
Andrew W. Lenssen and S. Dennis Cash. "Annual warm-season grasses vary for forage yield, quality, and competitiveness with weeds"
Archives of Agronomy and Soil Science
Vol. 57 Iss. 8 (2011)
Available at: http://works.bepress.com/andrew_lenssen/47/