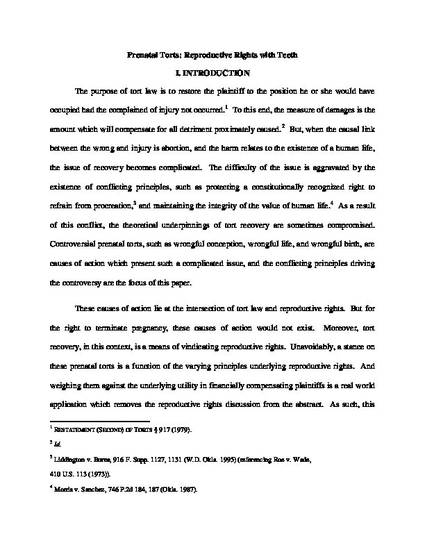 Unpublished Paper
Prenatal Torts: Reproductive Rights with Teeth
ExpressO (2014)
Abstract
The purpose of tort law is to restore the plaintiff to the position he or she would have occupied had the complained of injury not occurred. To this end, the measure of damages is the amount which will compensate for all detriment proximately caused. But, when the causal link between the wrong and injury is abortion, and the harm relates to the existence of a human life, the issue of recovery becomes complicated. The difficulty of the issue is aggravated by the existence of conflicting principles, such as protecting a constitutionally recognized right to refrain from procreation, and maintaining the integrity of the value of human life. As a result of this conflict, the theoretical underpinnings of tort recovery are sometimes compromised. Controversial prenatal torts, such as wrongful conception, wrongful life, and wrongful birth, are causes of action which present such a complicated issue, and the conflicting principles driving the controversy are the focus of this paper.
These causes of action lie at the intersection of tort law and reproductive rights. But for the right to terminate pregnancy, these causes of action would not exist. Moreover, tort recovery, in this context, is a means of vindicating reproductive rights. Unavoidably, a stance on these prenatal torts is a function of the varying principles underlying reproductive rights. And weighing them against the underlying utility in financially compensating plaintiffs is a real world application which removes the reproductive rights discussion from the abstract. As such, this paper will explore the intersection of tort law and reproductive rights to inform an evaluation of the attendant conflicting principles.
This paper first provides a contextual scope of these relatively new causes of action. The paper then discusses the concerns surrounding these prenatal torts. Next, the paper will evaluate the three-pronged approach of the reproductive issues discussion—equal citizenship, relational privacy, and individual liberty—in the context of the concerns surrounding these prenatal torts. Finally, this paper will deliberate the merits of the conflicting principles driving the prenatal tort controversy.
Keywords
wrongful birth,
wrongful life,
wrongful conception,
wrongful pregnancy,
eugenics
Publication Date
April 10, 2014
Citation Information
Andrew H Jones. "Prenatal Torts: Reproductive Rights with Teeth"
ExpressO
(2014)
Available at: http://works.bepress.com/andrew_jones/1/