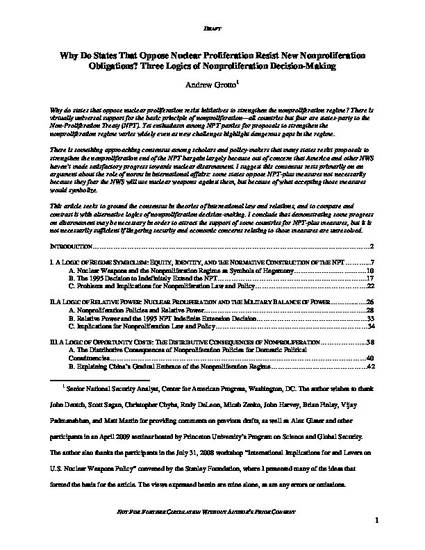 Unpublished Paper
Why Do States That Oppose Nuclear Proliferation Resist New Nonproliferation Obligations? Three Logics of Nonproliferation Decision-Making
ExpressO (2009)
Abstract
Why do states that oppose nuclear proliferation resist initiatives to strengthen the nonproliferation regime? There is virtually universal support for the basic principle of nonproliferation—all countries but four are states-party to the Non-Proliferation Treaty (NPT). Yet enthusiasm among NPT parties for proposals to strengthen the nonproliferation regime varies widely even as new challenges highlight dangerous gaps in the regime.
There is something approaching consensus among scholars and policy-makers that many states resist proposals to strengthen the nonproliferation end of the NPT bargain largely because America and other NWS haven't made satisfactory progress towards nuclear disarmament. I suggest this consensus rests primarily on an argument about the role of norms in international affairs: some states oppose NPT-plus measures not necessarily because they fear the NWS will use nuclear weapons against them, but because of what accepting those measures would symbolize.
This article seeks to ground the consensus in theories of international law and relations, and to compare and contrast it with alternative logics of nonproliferation decision-making. I conclude that demonstrating some progress on disarmament may be necessary in order to attract the support of some countries for NPT-plus measures, but it is not necessarily sufficient if lingering security and economic concerns relating to those measures are unresolved.
Keywords
NPT,
nonproliferation,
disarmament,
Article VI,
relative power,
opportunity cost,
nuclear weapons,
Iran,
North Korea
Citation Information
Andrew J Grotto. "Why Do States That Oppose Nuclear Proliferation Resist New Nonproliferation Obligations? Three Logics of Nonproliferation Decision-Making"
ExpressO
(2009)
Available at: http://works.bepress.com/andrew_grotto/1/