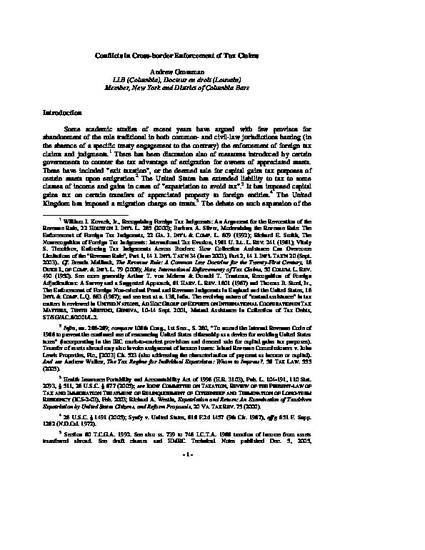 Unpublished Paper
Conflicts in Cross-border Enforcement of Tax Claims
ExpressO (2007)
Abstract
Some recent academic studies have argued, with few provisos, for abandonment of the rule traditional in both common- and civil-law jurisdictions barring the enforcement of foreign tax claims and judgments in the absence of a specific treaty engagement to the contrary. To equate public-law debts with private debts, and to make judgments for such debts enforceable across borders in the manner of the Uniform Foreign Money-Judgments Recognition Act, without addressing the special nature of tax claims and the way in which they may arise in bankruptcy, involuntary liquidation of assets, and arise in tandem and across borders, is bound to confront states' vital interests.
Even if one restricts such enforcement to the tax claims of respected, transparent and incorruptible taxing jurisdictions, situations of double taxation, even combined taxation in excess of income, can be envisaged. Exit taxation of gains on deemed sale, taxation as an administrative expense of involuntary liquidations of assets, special levies (such as the Alternative Minimum Tax) and the complexities of trust taxation all argue for addressing cross-border enforcement on a detailed, bilateral level rather than unilaterally and without reciprocity. Professors Nadelmann and Reese, in drafting the Uniform Foreign Money-Judgments Recognition Act, hoped that its non-reciprocity character would lead to general worldwide respect for the judgments of U.S. courts. There has been limited movement in this regard: there is no reason to suppose that extending the practice to judgments for tax claims, without particular recognition of the personal and corporate hardships and the compromise of state and domestic creditor interests that could ensue, would be either constructive or progressive.
Keywords
tax,
bankruptcy,
insolvency,
transnational,
public policy,
ordre public,
income,
estate,
European Law
Publication Date
December 20, 2007
Citation Information
Andrew Grossman. "Conflicts in Cross-border Enforcement of Tax Claims"
ExpressO
(2007)
Available at: http://works.bepress.com/andrew_grossman/1/