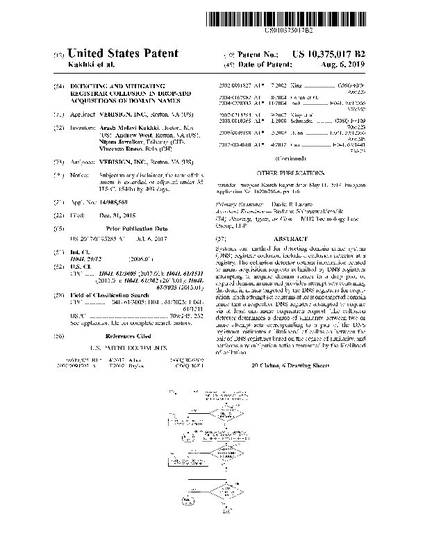 Other
Detecting and Mitigating Registrar Collusion in Drop-Add Acquisitions of Domain Names
(2019)
Abstract
Systems and method for detecting domain name system (DNS) registrar collusion include a collusion detector at a registry. The collusion detector obtains information related to name acquisition requests submitted by DNS registrars attempting to acquire domain names in a drop pool of expired domain names and provides attempt sets containing the domain names targeted by the DNS registrars for acquisition. Each attempt set contains at least one targeted domain name that a respective DNS registrar attempted to acquire via at least one name acquisition request. The collusion detector determines a degree of similarity between two or more attempt sets corresponding to a pair of the DNS registrars, estimates a likelihood of collusion between the pair of DNS registrars based on the degree of similarity, and performs any mitigation action warranted by the likelihood of collusion.
Publication Date
August 6, 2019
Citation Information
Arash Molavi Kakhki, Andrew G. West, Nipun Jawalkar, and Vincenzo Russo. Detecting and mitigating registrar collusion in drop-add acquisitions of domain names. U.S. Patent 10,375,017(Granted August 6, 2019; filed December 31, 2015).