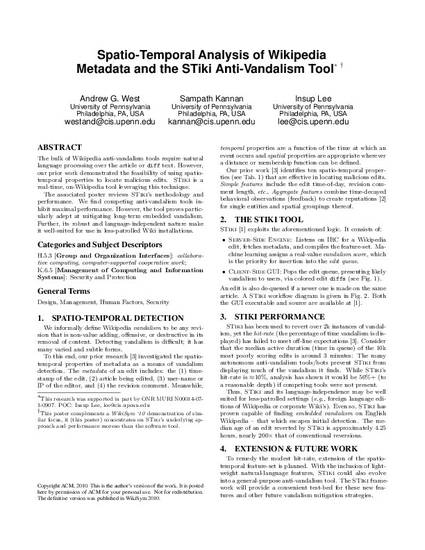 Article
Spatio-Temporal Analysis of Wikipedia Metadata and the STiki Anti-Vandalism Tool
6th International Symposium on Wikis and Open Collaboration (WikiSym '10)
Date of this Version
7-1-2010
Abstract
The bulk of Wikipedia anti-vandalism tools require natural language processing over the article or diff text. However, our prior work demonstrated the feasibility of using spatio-temporal properties to locate malicious edits. STiki is a real-time, on-Wikipedia tool leveraging this technique. The associated poster reviews STiki's methodology and performance. We find competing anti-vandalism tools inhibit maximal performance. However, the tool proves particularly adept at mitigating long-term embedded vandalism. Further, its robust and language-independent nature make it well-suited for use in less-patrolled Wiki installations.
DOI
10.1145/1832772.1832797
Copyright/Permission Statement
© ACM 2010. This is the author's version of the work. It is posted here for your personal use. Not for redistribution. The definitive Version of Record was published in
Proceedings of the 6th International Symposium on Wikis and Open Collaboration (WikiSym '10)
, http://dx.doi.org/10.1145/1832772.1832797.
Keywords
Wikipedia,
collaborative applications,
information security,
intelligent routing,
spatio-temporal processing
Citation Information
Andrew G. West, Sampath Kannan and Insup Lee. "Spatio-Temporal Analysis of Wikipedia Metadata and the STiki Anti-Vandalism Tool"
6th International Symposium on Wikis and Open Collaboration (WikiSym '10)
(2010) p. Article No. 18
Available at: http://works.bepress.com/andrew_g_west/15/