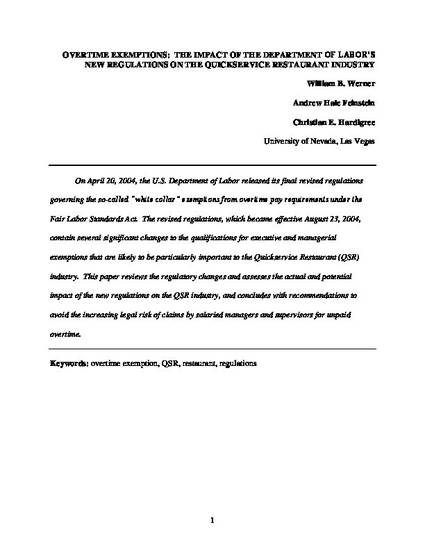 Article
Overtime Exemptions: The impact of the Department of Labor's new regulations on the quickservice restaurant industry
Electronic Journal of Hospitality Legal, Safety and Security Research (2007)
Abstract
On April 20, 2004, the U.S. Department of Labor released its final revised regulations governing the so-called "white collar" exemptions from overtime pay requirements under the Fair Labor Standards Act. The revised regulations, which became effective August 23, 2004, contain several significant changes to the qualifications for executive and managerial exemptions that are likely to be particularly important to the Quickservice Restaurant (QSR) industry. This paper reviews the regulatory changes and assesses the actual and potential impact of the new regulations on the QSR industry, and concludes with recommendations to avoid the increasing legal risk of claims by salaried managers and supervisors for unpaid overtime.
Citation Information
W. Werner, Andrew H. Feinstein and C. E. Hardigree. "Overtime Exemptions: The impact of the Department of Labor's new regulations on the quickservice restaurant industry"
Electronic Journal of Hospitality Legal, Safety and Security Research
Vol. 3 Iss. 25 (2007)
Available at: http://works.bepress.com/andrew_feinstein/6/