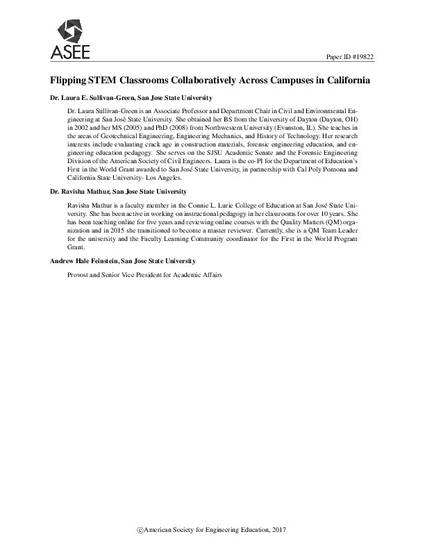 Presentation
Flipping STEM Classrooms Collaboratively Across Campuses in California
ASEE Annual Conference & Exposition (2017)
Abstract
San José State University, in partnership with California State University-Los Angeles and Cal Poly Pomona, was awarded a prestigious 2015 First in the World grant, sponsored by the Department of Education. The multi-campus effort is focused on bringing the flipped classroom model to seven STEM gateway courses over three years that have high failure rates through collaborative efforts from faculty on the three partner campuses. SJSU, CSULA, and CPP are all designated Hispanic-Serving Institutions and Minority-Serving Institutions, though their demographics are very different. High impact practices like the flipped classroom approach have been shown to increase URM student success and retention. Development/selection of course materials that promote active learning and student engagement is shared among the faculty collaborators, a divide-and-conquer approach to overcoming the often overwhelming challenge of creating a full length flipped classroom. The first courses currently being flipped are Calculus I and Physics I. In addition to promoting student success through active learning pedagogy, our approach also includes a multi-disciplinary, cross-campus faculty learning community (FLC) that serves as a model of active learning for our faculty, as well as providing training and support during development and implementation of the flipped classroom. Our flipped classroom model and FLC are based on the Community of Inquiry (CoI) framework, which states that an educational experience is a blend of social presence (establishing strong relationships), cognitive presence (moving beyond understanding to exploration, integration, and application), and teaching presence (a combination of environment and directed facilitation components). Initial data on student success as a result of the flipped classroom implementation in Calculus I and Physics I will be presented. In addition to student success data, qualitative data on student and faculty satisfaction with the flipped classroom will also be presented.
Publication Date
June 24, 2017
Citation Information
Laura E. Sullivan-Green, Ravisha Mathur and Andrew H. Feinstein. "Flipping STEM Classrooms Collaboratively Across Campuses in California"
ASEE Annual Conference & Exposition
(2017)
Available at: http://works.bepress.com/andrew_feinstein/58/