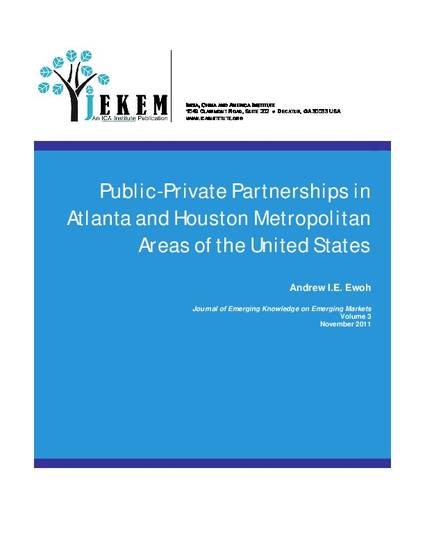 Article
Public-Private Partnerships in Atlanta and Houston Metropolitan Areas of the United States
Journal of Emerging Knowledge on Emerging Markets
Abstract
Public-private partnerships (PPPs) are normally created by the legislature as an innovative method of public service delivery, and funds to support their operations come from taxation on business premises or special property assessment fees levied on property owners for different types of improvement activities and services within a geographic boundary. The major goal of PPPs is to encourage employment, commerce, economic development, and public welfare in certain areas. This paper examines the PPPs' processes, financing, and promotion strategies in various projects as well as their impacts on sustainable economic development in Atlanta and Houston metropolitan areas of the United States. The analysis begins with an overview of PPPs as an economic development tool. This followed by an exploration of their governing structures, intergovernmental relations, and accountability issues as these relate to metropolitan governance. In sum, the paper concludes with recommendations for successful implementation strategies.
Citation Information
Andrew I.E. Ewoh. "Public-Private Partnerships in Atlanta and Houston Metropolitan Areas of the United States"
Available at: http://works.bepress.com/andrew_ewoh/78/