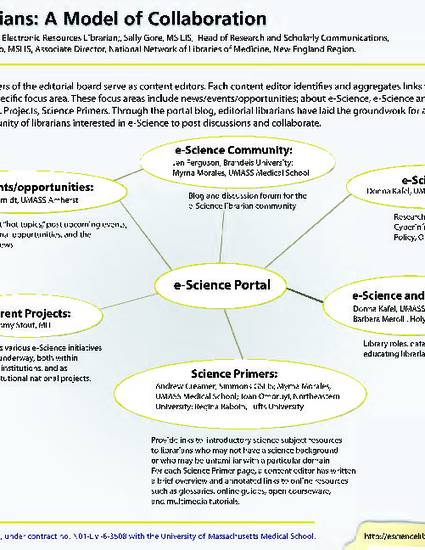 Presentation
Building an e-Science Portal for Librarians: A Model of Collaboration
University of Massachusetts and New England Area Librarian e-Science Symposium
Start Date
6-4-2011 1:00 PM
End Date
6-4-2011 2:00 PM
Description
Purpose: This poster focuses on the collaboration among science and medical librarians from multiple diverse New England research institutions in designing and aggregating content for an e-Science portal.
Brief Description: This project is funded through a subcontract with the National Network of Libraries of Medicine New England Region. It is based on a collaborative framework consisting of a project advisory board, an editorial board of content editors, and a web development technical team. This comprehensive portal, aimed at librarians, provides news, links to annotated e-Science resources, and a discussion forum. Members of the portal editorial board include science and medical subject librarians identifying and aggregating content on e-science news/events, tutorials, and current practice accessible through the portal. Editorial librarians are developing a virtual community using social tools to foster discussion and collaboration among New England librarians interested in e-Science. This poster describes the planning process and the roles of the editorial team, project coordinator, and portal design team.
Results/Outcome: The collaboration of biomedical and science subject and technology librarians is crucial to developing an e-Science portal that will provide the essential tools and knowledge for librarians to effectively engage in networked science.
Keywords
e-science,
portal,
librarians,
collaboration,
New England
Creative Commons License
Creative Commons Attribution-Noncommercial-Share Alike 3.0
Citation Information
Donna Kafel, Myrna E. Morales, Robert Vander Hart, Sally A Gore, et al.. "Building an e-Science Portal for Librarians: A Model of Collaboration" (2011)
Available at: http://works.bepress.com/andrew_creamer/1/