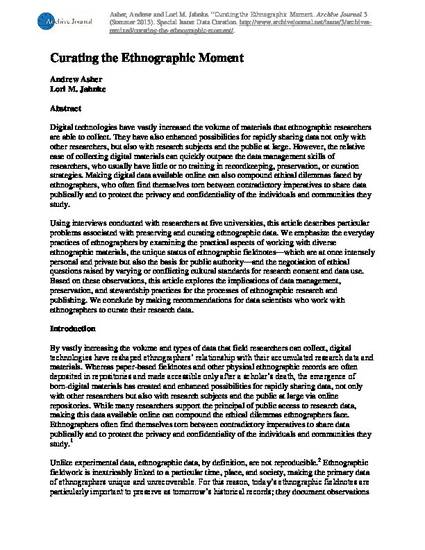 Article
Curating the Ethnographic Moment
Archive Journal (2013)
Abstract
Digital technologies have vastly increased the volume of materials that ethnographic researchers are able to collect. They have also enhanced possibilities for rapidly sharing data not only with other researchers, but also with research subjects and the public at large. However, the relative ease of collecting digital materials can quickly outpace the data management skills of researchers, who usually have little or no training in recordkeeping, preservation, or curation strategies. Making digital data available online can also compound ethical dilemmas faced by ethnographers, who often find themselves torn between contradictory imperatives to share data publically and to protect the privacy and confidentiality of the individuals and communities they study.
Using interviews conducted with researchers at five universities, this article describes particular problems associated with preserving and curating ethnographic data. We emphasize the everyday practices of ethnographers by examining the practical aspects of working with diverse ethnographic materials, the unique status of ethnographic fieldnotes—which are at once intensely personal and private but also the basis for public authority—and the negotiation of ethical questions raised by varying or conflicting cultural standards for research consent and data use. Based on these observations, this article explores the implications of data management, preservation, and stewardship practices for the processes of ethnographic research and publishing. We conclude by making recommendations for data scientists who work with ethnographers to curate their research data.
Keywords
Archives,
Ethnography,
Data Curation,
Data Management,
Ethics
Publication Date
Summer 2013
Citation Information
Andrew D Asher and Lori M Jahnke. "Curating the Ethnographic Moment"
Archive Journal
Iss. 3 (2013)
Available at: http://works.bepress.com/andrew_asher/42/