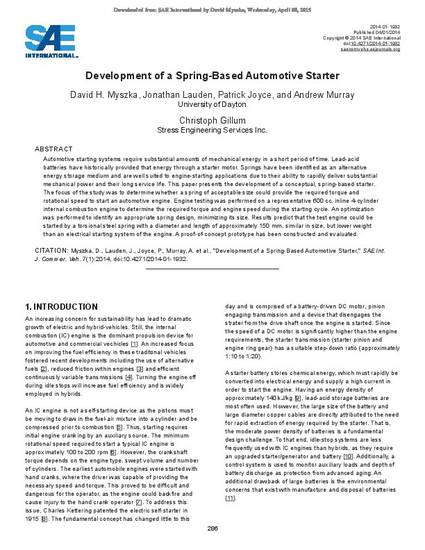 Article
Development of a Spring-Based Automotive Starter
SAE International Journal of Commercial Vehicles
Publication Date
4-1-2014
Abstract
Automotive starting systems require substantial amounts of mechanical energy in a short period of time. Lead-acid batteries have historically provided that energy through a starter motor. Springs have been identified as an alternative energy storage medium and are well suited to engine-starting applications due to their ability to rapidly deliver substantial mechanical power and their long service life. This paper presents the development of a conceptual, spring-based starter. The focus of the study was to determine whether a spring of acceptable size could provide the required torque and rotational speed to start an automotive engine. Engine testing was performed on a representative 600 cc, inline 4-cylinder internal combustion engine to determine the required torque and engine speed during the starting cycle. An optimization was performed to identify an appropriate spring design, minimizing its size. Results predict that the test engine could be started by a torsional steel spring with a diameter and length of approximately 150 mm, similar in size, but lower weight than an electrical starting system of the engine. A proof-of-concept prototype has been constructed and evaluated.
Document Version
Published Version
Copyright
Copyright © 2014, SAE International
Publisher
SAE International
Citation Information
David H. Myszka, Jonathan Lauden, Patrick Joyce, Andrew P. Murray, et al.. "Development of a Spring-Based Automotive Starter"
SAE International Journal of Commercial Vehicles
Vol. 7 Iss. 1 (2014)
Available at: http://works.bepress.com/andrew-murray/10/