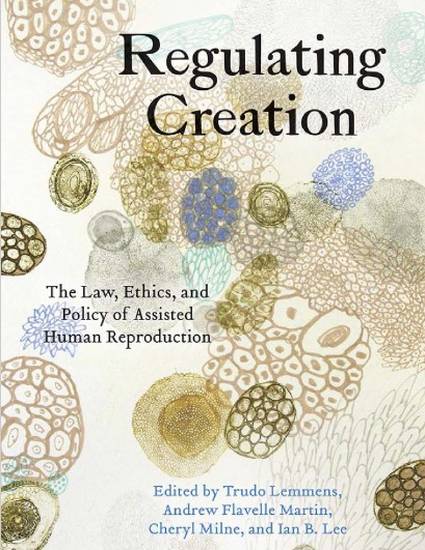 Contribution to Book
Introduction to "Regulating Creation: The Law, Ethics, and Policy of Assisted Human Reproduction"
Articles, Book Chapters, & Popular Press
Document Type
Book Chapter
Publication Date
1-1-2016
Keywords
assisted human reproduction,
constitutional law,
family law,
human rights,
children's rights,
commodification
Abstract
In 2004, Canada's Parliament passed the Assisted Human Reproduction Act. Fully in force by 2007, the act was intended to safeguard and promote the health, safety, dignity, and rights of Canadians. However, a 2010 Supreme Court of Canada decision ruled that key parts of the act were invalid. Regulating Creation is a collection of essays built around various components of the 2010 ruling. Featuring contributions by Canadian and international scholars, it offers a variety of perspectives on the role of law in dealing with the legal, ethical, and policy issues surrounding changing reproductive technologies. The book is divided in three parts. Part 1 contains a detailed discussion of the case and of constitutional and federalism issues. Part 2 discusses family law and children right's perspectives of assisted human reproduction. The chapters in Part 3 elaborate on concerns around commodification, commercialization, and access to reproductive services and goods. In addition to the in-depth analysis of the Canadian case the volume reflects on how other countries, particularly the U.S., U.K. and New Zealand regulate these same issues. Combining a detailed discussion of legal approaches with an in-depth exploration of societal implications, Regulating Creation deftly navigates the obstacles of legal policy amidst the rapid current of reproductive technological innovation. The introductory chapter briefly discusses the various chapters and situates the chapters in the context of current discussions around Assisted Human Reproduction.
Citation Information
Trudo Lemmens & Andrew Flavelle Martin, "Introduction", in Trudo Lemmens, Andrew Flavelle Martin, Ian Lee & Cheryl Milne, eds,
Regulating Creation: The Law, Ethics, and Policy of Assisted Human Reproduction
(Toronto: University of Toronto Press, 2017) 1 at 20.