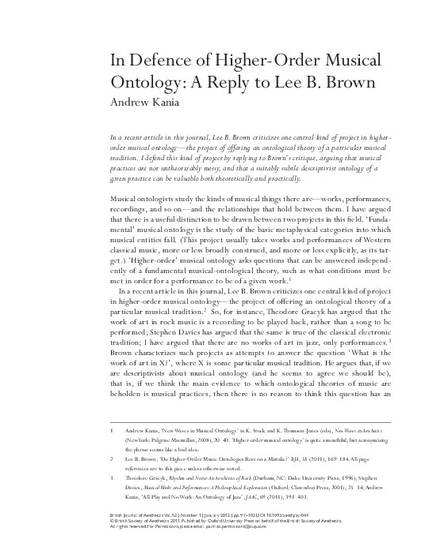 Article
In Defence of Higher-Order Musical Ontology: A Reply to Lee B. Brown
British Journal of Aesthetics
Publication Date
1-1-2012
Abstract
In a recent article in this journal, Lee B. Brown criticizes one central kind of project in higher-order musical ontology—the project of offering an ontological theory of a particular musical tradition. I defend this kind of project by replying to Brown's critique, arguing that musical practices are not untheorizably messy, and that a suitably subtle descriptivist ontology of a given practice can be valuable both theoretically and practically.
Document Object Identifier (DOI)
10.1093/aesthj/ayr044
Citation Information
Kania, A. (2012). In defence of higher-order musical ontology: A reply to Lee B. Brown.
British Journal of Aesthetics
, 52, 97-102. doi: 10.1093/aesthj/ayr044