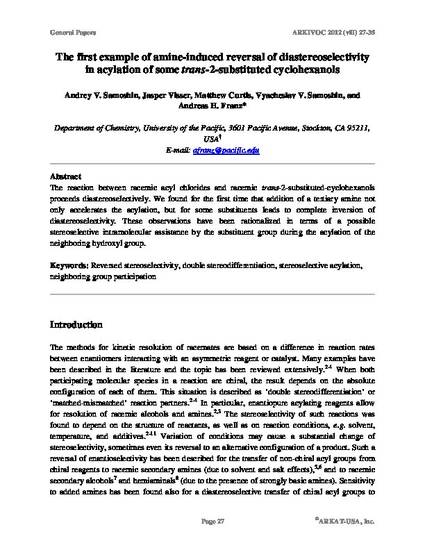 Article
The first example of amine-induced reversal of diastereoselectivity in acylation of some trans-2-substituted cyclohexanols
ARKIVOC
DOI
10.3998/ark.5550190.0013.803
Publication Date
1-1-2012
Abstract
The reaction between racemic acyl chlorides and racemic trans-2-substituted-cyclohexanols proceeds diastereoselectively. We found for the first time that addition of a tertiary amine not only accelerates the acylation, but for some substituents leads to complete inversion of diastereoselectivity. These observations have been rationalized in terms of a possible stereoselective intramolecular assistance by the substituent group during the acylation of the neighboring hydroxyl group.
Creative Commons License
Creative Commons Attribution 4.0
Citation Information
Andrey V. Samoshin, Jasper Visser, Matthew Curtis, Vyacheslav V. Samoshin, et al.. "The first example of amine-induced reversal of diastereoselectivity in acylation of some trans-2-substituted cyclohexanols"
ARKIVOC
Vol. 2012 Iss. 8 (2012) p. 27 - 35 ISSN: 1551-7012
Available at: http://works.bepress.com/andreas-franz/81/