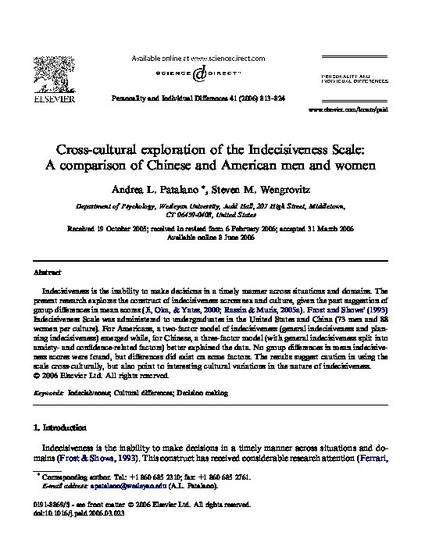 Article
Cross-cultural exploration of the Indecisiveness Scale: A comparison of Chinese and American men and women
Personality and Individual Differences (2006)
Abstract
Indecisiveness is the inability to make decisions in a timely manner across situations and domains. The present research explores the construct of indecisiveness across sex and culture, given the past suggestion of group differences in mean scores (Ji, Oka, & Yates, 2000; Rassin & Muris, 2005a). Frost and Shows' (1993) Indecisiveness Scale was administered to undergraduates in the United States and China (73 men and 88 women per culture). For Americans, a two-factor model of indecisiveness (general indecisiveness and planning indecisiveness) emerged while, for Chinese, a three-factor model (with general indecisiveness split into anxiety- and confidence-related factors) better explained the data. No group differences in mean indecisiveness scores were found, but differences did exist on some factors. The results suggest caution in using the scale cross-culturally, but also point to interesting cultural variations in the nature of indecisiveness.
Keywords
indecisiveness,
decision making,
cross-cultural differences
Citation Information
Patalano, A. L., & Wengrovitz, S. M. (2006). Cross-cultural exploration of the Indecisiveness Scale: A comparison of Chinese and American men and women.
Personality and Individual Differences, 41,
813-824.