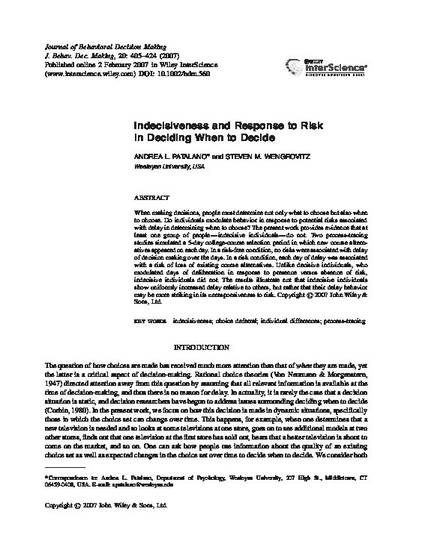 Article
Indecisiveness and response to risk in deciding when to decide
Journal of Behavioral Decision Making (2007)
Abstract
When making decisions, people must determine not only what to choose but also when to choose. Do individuals modulate behavior in response to potential risks associated with delay in determining when to choose? The present work provides evidence that at least one group of people--indecisive individuals--do not. Two process-tracing studies simulated a 5-day college-course selection period in which new course alternatives appeared on each day. In a risk-free condition, no risks were associated with delay of decision making over the days. In a risk condition, each day of delay was associated with a risk of loss of existing course alternatives. Unlike decisive individuals, who modulated days of deliberation in response to presence versus absence of risk, indecisive individuals did not. The results illustrate not that indecisive individuals show uniformly increased delay relative to others, but rather that their delay behavior may be more striking in its unresponsiveness to risk.
Keywords
indecisiveness,
delay,
decision making,
individual differences
Citation Information
Patalano, A. L., & Wengrovitz, S. M. (2007). Indecisiveness and response to risk in deciding when to decide.
Journal of Behavioral Decision Making, 20,
405-424.