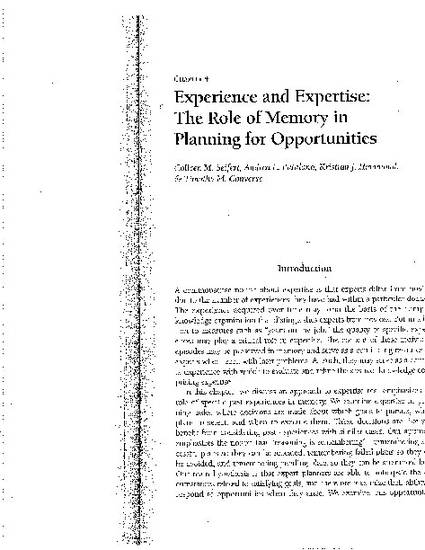 Book
Experience and expertise: The role of memory in planning for opportunities
(1997)
Abstract
We briefly review the role of experience in expertise, and the central role of past experiences within our framework, case-based planning / present the problem of opportunism —taking advantage of unanticipated circumstances to satisfy one's goals—as a challenge for any model of expertise / after a discussion of competing models of opportunistic planning, we define our own model and identify its cognitive mechanisms / evaluate this model through 2 research methodologies: computational modeling and experiments with human participants / by combining evidence from these 2 approaches, we hope to develop a more complete theory of how opportunistic planning is accomplished / our account of the role of memory for specific past experiences in identifying later opportunities provides evidence for the importance of the context of specific experiences in expertise.
Keywords
planning,
problem solving,
opportunism
Editor
P. J. Feltovich, K. M. Ford, & R. R. Hoffman
Publisher
AAAI Press/ MIT Press
Citation Information
Seifert, C. M., Patalano, A. L., Hammond, K. J., & Converse, T. M. (1997). Experience and expertise: The role of memory in planning for opportunities. In P. J. Feltovich, K. M. Ford, & R. R. Hoffman (Eds.),
Expertise in context
(pp. 101-123). Menlo Park, CA: AAAI Press/ MIT Press.