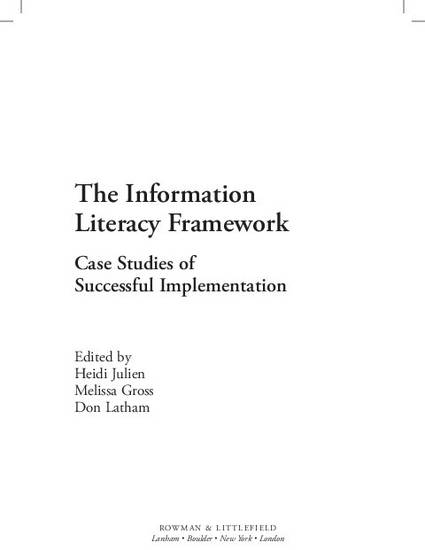 Contribution to Book
Flexible Frameworks, New Paradigms: Examining Beliefs about the ACRL Framework to Grow Teaching Practice
Implementing the ACRL Framework in libraries and pre-service LIS education: Case studies from the field (2020)
Abstract
In this chapter I discuss how perceptions of the Framework and related beliefs about teaching and learning powerfully influence librarians' relationships to the Framework. More specifically, I consider how perceptions of the Framework as flexible or rigid often contribute to enthusiasm about or frustration with the document. I first consider the strong role that beliefs and assumptions generally play in teaching and learning. This discussion is informed by three key lines of inquiry: (1) educational research on the importance for teachers of reflecting on their pedagogical beliefs and practices, (2) Stephen Brookfield's work on "hunting assumptions" and critically reflective teaching practice, and (3) Kenneth A. Strike and George J. Posner's revisionist theory of conceptual change. The interrelated areas of research suggest that a key component of teacher development is the development of communities of practice, through which educators can investigate their beliefs and assumptions about teaching and learning and how they influence their pedagogical practices.
Finally, I relate this research and theories on the relationship between teachers' beliefs and pedagogical practice to library professional development on the Framework that I offer. This scholarship lays a foundation for considering the Framework and perceptions of it in terms of flexibility or rigidity. Such reflection can be a powerful way to foster creative and effective instructional approaches that are adapted to librarians' local contexts. I also suggest ways that such professional development can be responsive (1) to current and future librarians' prior knowledge, experiences, conceptions of and experiences with the Framework and (2) to the institutional, historical, and sociocultural contexts that influence them. Such an approach is essential to fostering reflective teaching practices that are driven by the inquiry, knowledge building, conversation, and curiosity that the Framework itself encourages.
Keywords
information literacy,
teacher development,
academic librarianship,
ACRL Framework for Information Literacy for Higher Education
Editor
Heidi Julien, Melissa Gross, & Don Latham
Publisher
Rowman & Littlefield
Citation Information
Baer, A. (2020). Flexible frameworks, new paradigms: Examining beliefs about the ACRL framework to grow teaching practice. In H. Julien, M. Gross & D. Latham (Eds.), Implementing the ACRL Framework in libraries and pre-service LIS education: Case studies from the field. Rowman & Littlefield: Lanham, Maryland.