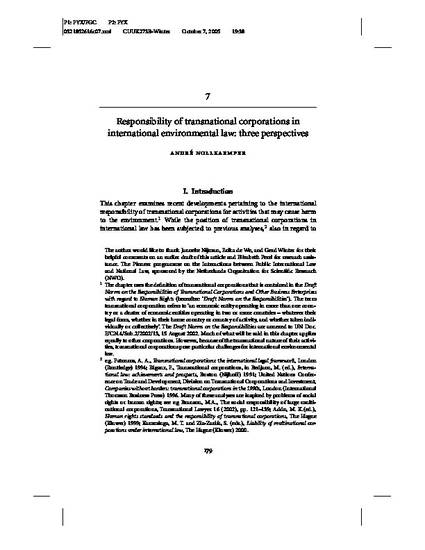 Contribution to Book
Responsibility of transnational corporations in international environmental law: three perspectives
Multilevel Governance of Global Environmental Change. Perspectives from Science, Sociology and the Law (2006)
Abstract
This chapter examines recent developments pertaining to the international responsibility of transnational corporations for activities that may cause harm to the environment. While the position of transnational corporations in international law has been subjected to previous analyses, also in regard to international environmental law, there are reasons for a new consideration of the topic.
First, transnational corporations substantially contribute to the worldwide stress on the environment. Many acts that deplete natural resources, contribute to the depletion of the ozone layer and to climate change, deplete fish stocks, clear-cut forests, move waste across boundaries, and so on, are not performed by states, but rather by economic entities operating in more than one state. Recent data indicate that the detrimental effects of the activities of transnational corporations on the worldwide environment are substantial. In the perspective of the book of which this chapter is a part, it can be said that transnational corporations pose a considerable challenge to global environmental governance.
Secondly, there is a variety of recent initiatives of a political and/or legal nature that seek to improve international regulation of transnational corporations. Noteworthy is the work of the ILC on international liability, the adoption of the Norms on the Responsibilities of Transnational Corporations and Other Business Enterprises with regard to Human Rights by the UN Subcommission on the Promotion and Protection of Human Rights, and the United Nations Global Compact.
Keywords
Responsibility,
transnational corporations,
environmental law,
self-regulation,
direct responsibility,
national law,
public/general international law,
multilevel governance
Publisher
Cambridge University Press
Citation Information
André Nollkaemper. "Responsibility of transnational corporations in international environmental law: three perspectives" Cambridge
Multilevel Governance of Global Environmental Change. Perspectives from Science, Sociology and the Law
(2006)
Available at: http://works.bepress.com/andre_nollkaemper/4/