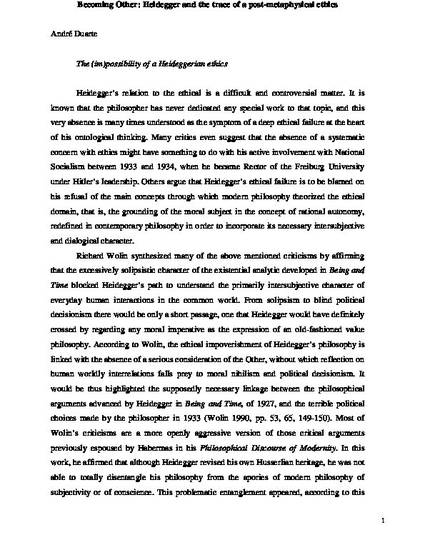 Presentation
Becoming Other: Heidegger and the trace of a post-metaphysical ethics
Conference presented at the OPO International Meeting at Universidad Catolica de Lima (2005)
Abstract
Criticizing current interpretations that stress the existential solipsism of the resolute Dasein, the present investigation emphasizes Heidegger's contribution to the question of the acknowledgment of otherness in Being and Time. The key to uncover the post-metaphysical ethical dimension of the existential analytic is to be found in the theoretical articulation between the phenomenological analysis of anguish and that of the call of conscience. The main argument is that by responsibly hearing to the strange appeal of conscience, resolute Dasein is simultaneously opened to the acknowledgment and welcoming of the other as other.
Keywords
Heidegger,
existential analytic,
postmetaphysical ethics
Citation Information
Andre de Macedo Duarte. "Becoming Other: Heidegger and the trace of a post-metaphysical ethics"
Conference presented at the OPO International Meeting at Universidad Catolica de Lima
(2005)
Available at: http://works.bepress.com/andre_duarte/4/